The ongoing quest continues...
There are many (many!) favorable aspects for both the P180/182 and the Scythe Ninja.
Frequent users here, may also have seen some downsides to these products (hooks breaking off, door not too solid / fitting to Intel processors).
There are alternatives, but they seem to be very scarce.
I've opted for a Thermalright 120 Extreme instead of the Ninja.
As far as cases are concerned, I find the P182 very affordable but it has some flaws as well.
Are there *any* cases that come close to soundproofing your system (the P180/182 comes with 3 sided panels, the front is sealed with a door etc). And the cabling system seems pretty nice as well.
I heard, 2 mm aluminium will be able to soundproof the system enough to prevent resonation.
There are a few other cases that look pretty good:
I just
love
the front of Silverstone TJ-09: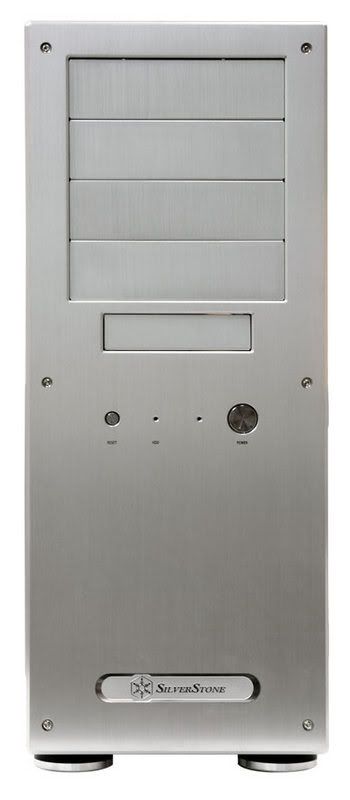 I am leaning towards function before style, but this is simply the most elegant front I've ever seen (in comparison, the Antec does look a bit bland).
If only the P182 didn't have some issues, I would go for that.
It's not all bliss though, the TJ-09 has some downsides as well: the hard drive compartment is "sealed off" from the rest of the case (some mesh on either side that doesn't come into contact with the rest of the case), the hard drive compartment needs additional cooling (very low RPM fan I guess - some reviews say no active cooling is needed) but it also has
no soundproofing
, seperating it from the outside [hard drives, however quiet, do still need some soundproofing in order to get a quiet PC].
And it has a (what seems like a) very restrictive intake [left and right] for the rest of the case.
On the up-side: the front has 5 mm aluminium, the side panels are 1.5/2 mm aluminium. It's all brushed as well, so looks very good.
Personally, I don't like the mesh of Lian Li with all the little holes.
There are some nice choices for Lian Li though (PC-V2000, PC-A16A). Some other Lian Li cases have a very complex airflow system (PC-S80A)...
Apart from these three, which all seem quality case brands (although with pain in my heart, I wouldn't cross my fingers for Antec) are there any other quality cases a quiet PC user may look at?
Somehow, I think most would still advice the P180/182 but that would seem like "settling for".
I've read most recent threads here, and both the Scythe Ninja and the Antec P180/182 seem like the best options, while taking into account some drawbacks.
What if you have money to spend? (both the Silverstone and Lian Li cases are way more expensive, but even without money taking into account, are they still the best?).
What are our alternatives?
Are they still unquestionably the best, after all these years, no other options?
[I've seen similar behaviour in other forums, where established setups keep on being advised after years, no questions asked - I'm not saying this is what happens here, but what are the alternatives?]