[
Edited 2005.03.24.08.55
] As the original post was composed way past my bedtime, I've edited for clarity and fleshed-out a bit.
This is the system I was running when I discovered that modern self-assembled computers don't have to be loud. I ran this box (Athlon 1200) for many years, and they were all hand-me-down parts when I got them. I assembled it in a typical "cram the cables in however they fit" fashion, and never once thought about where airflow came from or went to. It had fans, therefore it was cool, right?
As you can see, it's a royal mess.
The only thing I was concerned about at the time was the ATi 7500, which I inherited when the fan died. I was running an old 2D card at the time, and wanted to try a couple of 3D games that I had been unable to run, so I stuck it in to see how long it would last--I'm still using this card, with no fan, three years later. The sink never gets warm.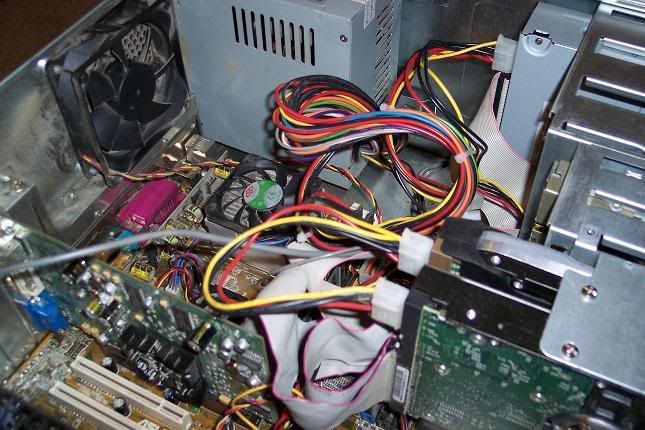 Enter SPCR: A great deal of time lurking here (probably prompted by a noisily dying nb fan) finally coaxed me to check my temps, which were idling around 55-60C.
A little cablegami later, I didn't feel quite so ashamed of it, and temps improved drastically. I later replaced the cpu fan with an 80mm w/ adapter and a Zalman nb heatsink, and I undervolted the cpu and a few fans, bringing the noise under control--sadly, the computer was just too out-of-date for me to live with for long.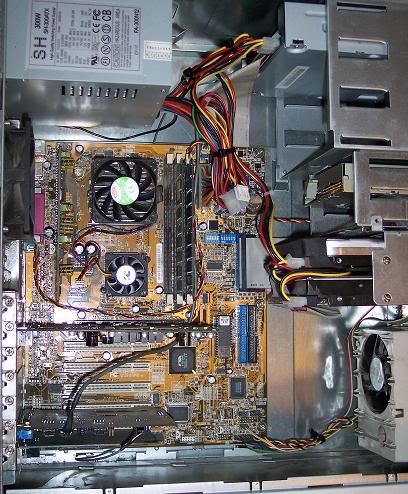 So I upgraded. Several of SPCR's most recommended parts, and a few of it's most common mods, and I have a system that's powerful and quiet enough to keep me (mostly) content.
Disclaimer: "Powerful enough" and "quiet enough" are extremely subjective. I'm an excessively patient person, and I don't play FPS games, so my "powerful enough" may be pathetic to the next person. I also probably live in a somewhat noisier environment than many of the audiophiles on this site. I am NOT an audiophile; the speakers on my computer are a pair of 6" unpowered mid-range speakers manufactured years before I was born. I live with noisy pets, noisy floorboards and ceiling fans, noisy neighbors, and (worst of all) a noisy vga fan in the wife's system four feet from mine.
Parts list:
AMD Athlon64 3000+ Winchester
--What's not to love about this thing? It was a stretch for my budget, but I think it'll last long enough for me.
Asus A8V
--I Really like this board. The only thing I could ask is for more control over the error threshholds. The BIOS insists that my CPU fan has failed at 800rpm, and that the CPU is over-voltage at 1.05V.
Arctic Silver 5
--Wow, they've come a long way from the stuff I used to find separated and pooling around the processor's pins.
Thermalright XP-120
--Ok, so I splurged a bit. I didn't really need this, but it feels good to buy the top-of-the-line
something
for once. That, and unless you buy a Nexus to go on it, it's really not much more expensive than the Zalmans. Mounting was a little cumbersome, but less scary than the old clips that used to scrape the traces by the socket.
Samsung Spinpoint
--I drew a JVC, but I don't think I've dropped the total system noise enough to notice any whine. The only thing I hear out of the HD is seek noise, but that is transmitted through the case rather well. I had not planned on decoupling the drive, but that may prove necessary.
Antec SLK3700AMB
--This case, with the power supply, was cheaper to get (shipped) than the 3000B when I bought it. I'm extremely happy with it, but for a few little nits: If the rear grill was as nice as the front, I'd have left it in. I don't care about the front; it's not seen (or open to fingers). Two pointless design flaws with the fan holders: they block airflow, and they don't use the standard case fan holes. The bezel restricts airflow enough to raise my temps somewhat, but I haven't decided on any mods yet.
Geil 512MB DDR400
--My concession to stupdid consumerism. I know nothing about CAS timings, or anything else that makes one stick better than another, and I felt that I'd hit diminishing returns on the value of my research for this system. I bought this one because it was blue.
NEC 3500--My first DVD-RW. I'm glad I have it, but I really don't use it a lot. I can't compare the performance to anything, and I haven't been happy with the noise level of an optical drive since they stopped running through sound cards.
Yate Loon 120mm--Gotta love `em, but boy, are they fugly. I wasn't unhappy with the stock Antec fan, but I bought two of these from the start, and they're definitely better.
Antec 350--Not a bad little PS for a stock unit. Loud by SPCR standards, but not a screamer. I was surprised to see SATA connectors on here--nice surprise in an aging model case. The design here seems silly, though, with a 92mm intake seemingly at full speed and the 80mm exhaust thermally controlled, it seems guaranteed to eject heated air into the case through the front vents. In what was probably a lapse of judgement, I removed the 92mm fan. The exhaust gets a little warm now, and the 80mm ramps up as high as 1200rpm (though I don't know what max is here).
And, of course, the same old ATi 7500 (and it's favorite blanket of dust)
I started with the Antec fan in front @ 5V, a YL on the XP-120, and a YL exhaust. After I dropped the core to 1.05V, this thing barely got above ambient.
With so much heat headroom, I started toying with fans to drop the noise level (speedfan is awesome). I tried removing the fan on the XP-120, and temps went up signifigantly (but still acceptable). I felt a little uncomfortable without any airflow being drawn through the hs fins, so I fashioned a duct from cardboard and duct tape (duct tape on a duct! Who'dve thunk it?) and the temps dropped down to nearly match the performance with the other fan in.
I've since replaced the oft-ridiculed duct tape duct with acrylic. I suspect I may need to dampen it at some point, but I haven't noticed any additional noise yet. The cpu idles around 32C with both fans at 50%
Potential improvements:
I'm currently testing leaving the exhaust fan completely off...with the case front sealed up, and the only other exhaust being the PSU's 80mm, enough air is pushed through the duct to keep the cpu at 50C during Prime95. I need to seal the few holes on the back to make sure as much air as possible is forced through the sink.
I'm not happy with my PSU setup. It's too noisy, and I can't tell if it's overheated or not. I really like the new S12 series coming out, but I'm concerned that the intake might be too restricted by my duct. NewEgg has the SS for cheap, but a low-power s12 just seems like a better unit to live with for several years.
I could duct an intake to the PSU, but this unit's not really designed for front intake--this seems like too little bang per time spent. I had hoped to remove the 80mm and replace the 92 with a 120, but there's not quite enough clearance inside the PSU case, and definitely not enough clearance ouside with my monster duct in the way.
I could build a new duct routing the XP-120 into the PS rather than the exhaust--but I don't want to add any more heat to my current PSU, and the duct was a lot of work. Maybe if I get the s12.
I think I'll shortly be looking for a HD decoupling solution. I can't exactly explain it, but suspensions bother me. I know they're effective and secure for many people, but I just don't like them. I like many of the commercial 5.25" solutions, but I also like having my HD actively cooled. I just don't know what I want to do here, yet.
One of my next attempts will be, I think, to dampen the door. It rattles badly when the HD is active, causing raised eyebrows from my wife, who is unenlightened to my quiet crusade. Further damping will probably happen much later (read "never").
I have two conflicting objectives regarding my intake, in that I need more airflow than current, and I need all of it to pass through the filter. Soliciting input here (as well as everywhere else).
Soft-mounting the fans is not a priority, as I'm trying to remove one of them completely, and the other seems not to vibrate much at all. It's even still in the purple bracket, though I removed the pointless airflow obstructions.
One of my most difficult and important decisions while putting together this system--which badge to use?
My components came with an Antec badge, an AMD badge, and an Asus badge, but none of them really spoke to me. It was when I went to throw out an old case that I realized I'd had the perfect one all along...