**Scroll down for new pictures!**
I've been browsing SPCR for a long time. And now I've finally been able to draw upon the vast amount of knowledge contained herein.
System Specs:
Case:
Antec P182
PSU:
Corsair 520W HX
Motherboard:
Gigabyte GA-P35-DS3P
CPU:
Intel Core 2 Quad Q6600 2.4GHz G0
CPU Heatsink & Fan:
Thermalright Ultra-120 / Nexus Real Silent 120mm 22,8dBA
RAM:
Corsair XMS2 2048MB DDR2 XMS2-5400 675MHz (4-4-4-12)
Graphics Card:
XFX 8800GTX 768MB
Sound Card:
Turtle Beach Santa Cruz (from old pc)
Hard Drive:
Samsung 500GB SATA II NCQ (7200RPM / 16MB Cache / SATA II)
Optical Drive:
NEC ND-3500AG (from old pc)
Misc:
Nexus Real Silent 120mm 22,8dBA, Arctic silver 5
Here you have it, not the neatest cabling. I'm going to tidy it up when I'm certain there won't be any changes to the system. You can see the old rig in the background.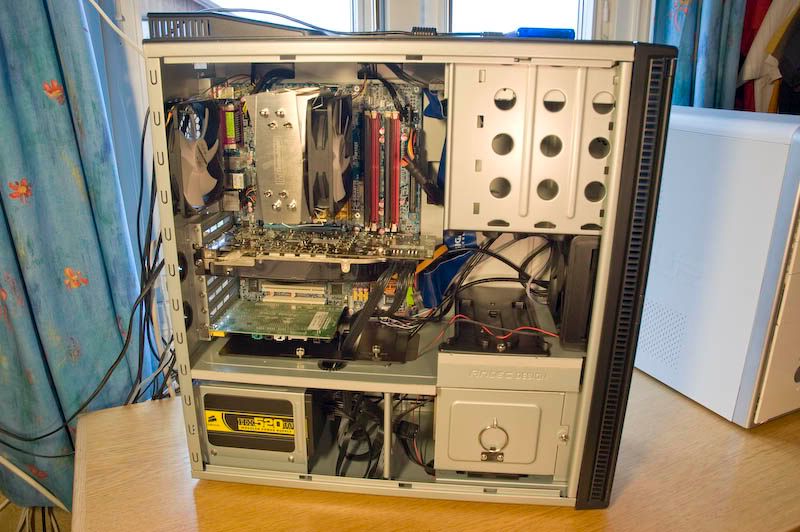 A closer look at the mess in the lower bay.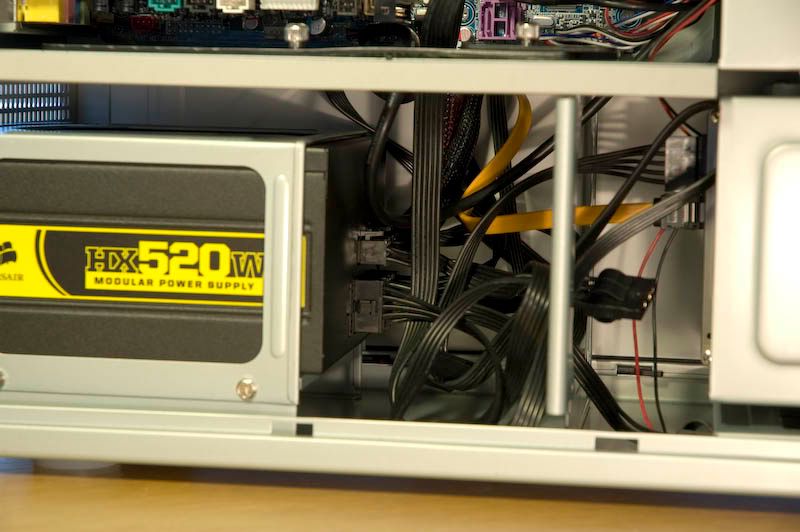 Top went taped shut.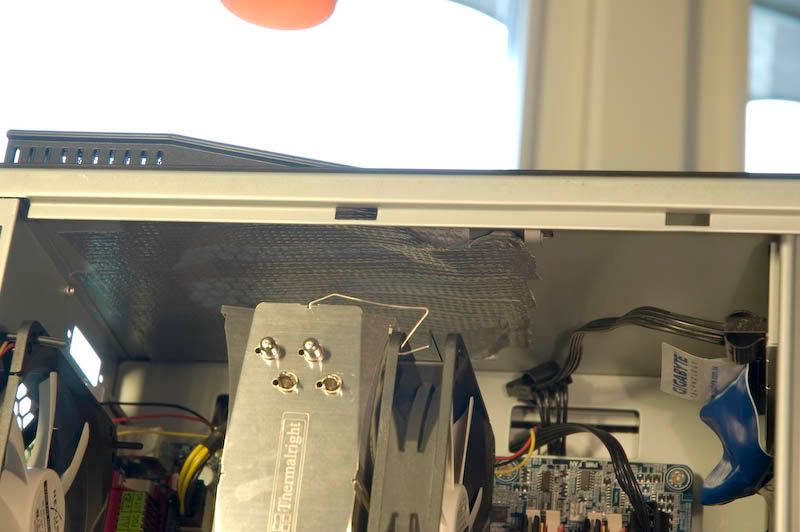 Experimented with one of the Tri-cools at the front intake (now removed).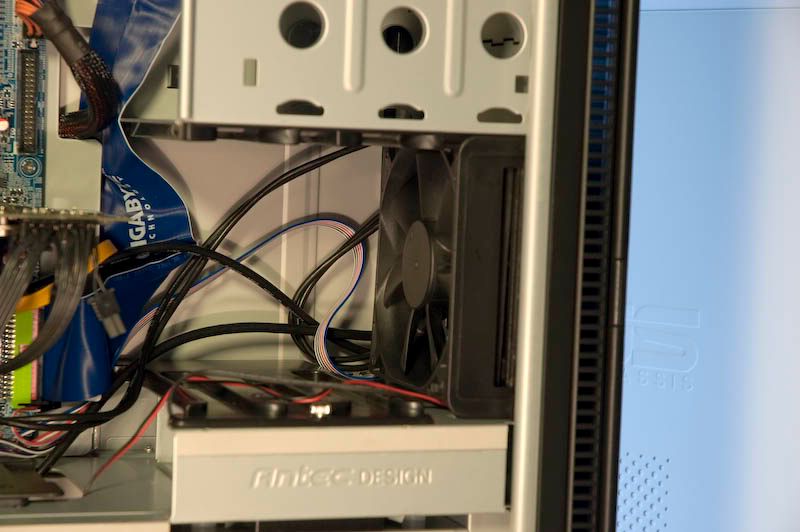 I had hoped that it would have improved the airflow over the northbridge somewhat, but that was not the case.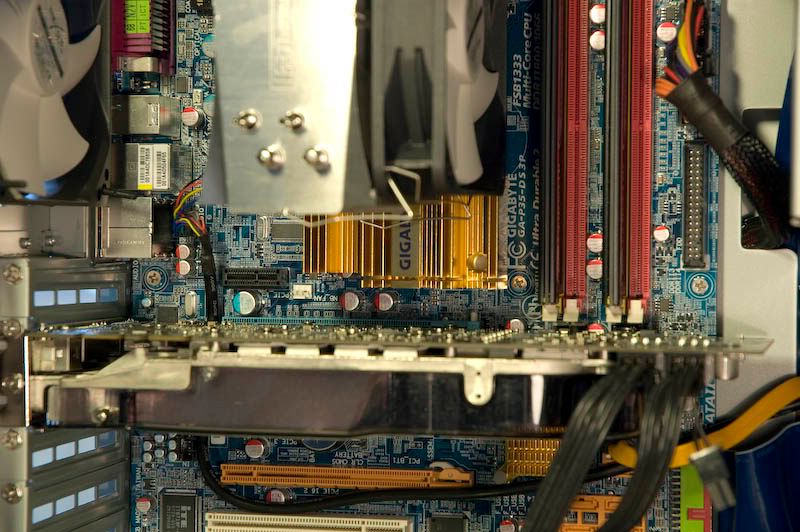 That 8800 GTX is a real furnace, heats up the northbridge quite a bit. And it's hard to find a good way to rout those extra power cables.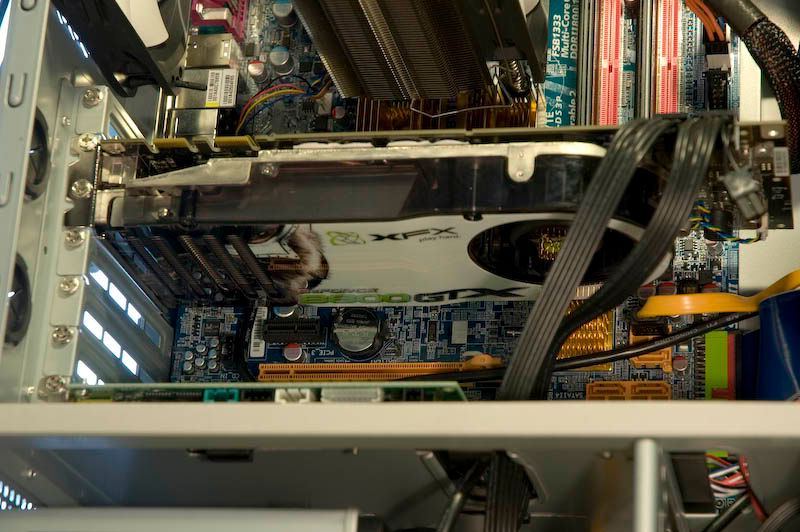 Removed the filter doors for better airflow.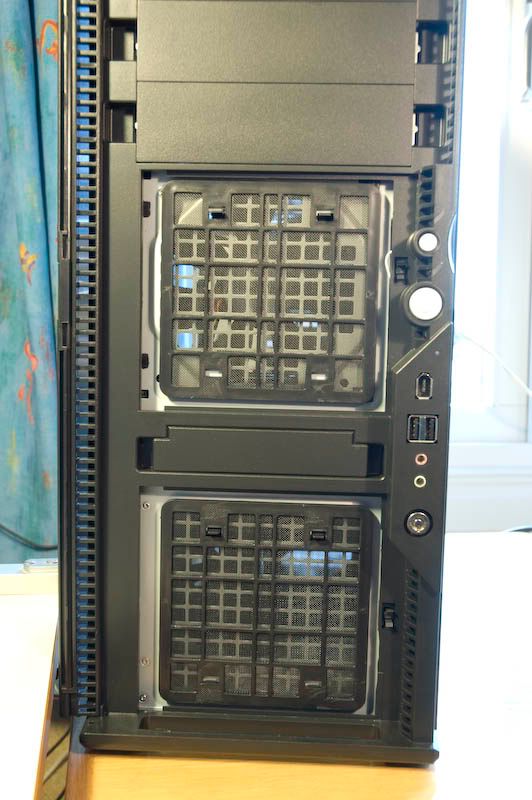 Temperature Readings
Both Nexus fans were at 12V for all tests.
Temperatures read with, Speed Fan 4.33 (SF), Core Temp 0.95.4 (CT) and RivaTuner 2.05 (RT)
Code: Select all
Idle:

Ambient temperature 26°C
147W power draw

CPU:
SF: 29,29,29,29
CT: 40,40,42,38

GPU:
RT: Coretemp 68, Ambient 56

Hard Drive:
SF: 36

Code: Select all
Load, 4x CPUburn for 10 minutes:

Ambient temperature 26°C
210w power draw

CPU:
SF: 42,41,41,42
CT: 58,58,60,57

GPU:
RT: Coretemp 69, Ambient 56

Hard Drive:
SF: 37

Code: Select all
Load, ATiTool for 10 minutes:

Ambient temperature 26°C
254w power draw

CPU:
SF: 28,29,28,28
CT: 45,49,46,43

GPU:
RT: Coretemp 86, Ambient, 68

Hard Drive:
SF: 33