this is
still a work in progress
, which i'll be updating frequently. i wanted something ultra portable and powerful since i travel between my apartment and house frequently. laptops just don't cut it for me because they're not powerful enough, can't build them, and screens are too small. i built this for the only game i play, starcraft 2, and to be a fast everyday-machine. mini-ITX cases like silverstone SG-05 was too common and too easy to build, this case is roughly half the size of a SG05/06. i'll be pushing the limits with size, heat, computational power, noise, and power consumption with this build. so enough with the background, here's the hardware with pics:
- i7-2600k
- gigabyte H67N-USB3
- sapphire HD5670 512mb
- gskill sniper 1x4gb ddr3
- 80gb x25-m SSD
- Evercase E0528
- 150-XT picoPSU with 150w brick
- 2x NF-R8 80mm fan
what it looks like when complete. bottle is there to show the relative size of the overall build: it's just a tiny bit taller and wider than a bottle. there was a lot of digging around before i discovered this case since it wasn't a common mainstream case.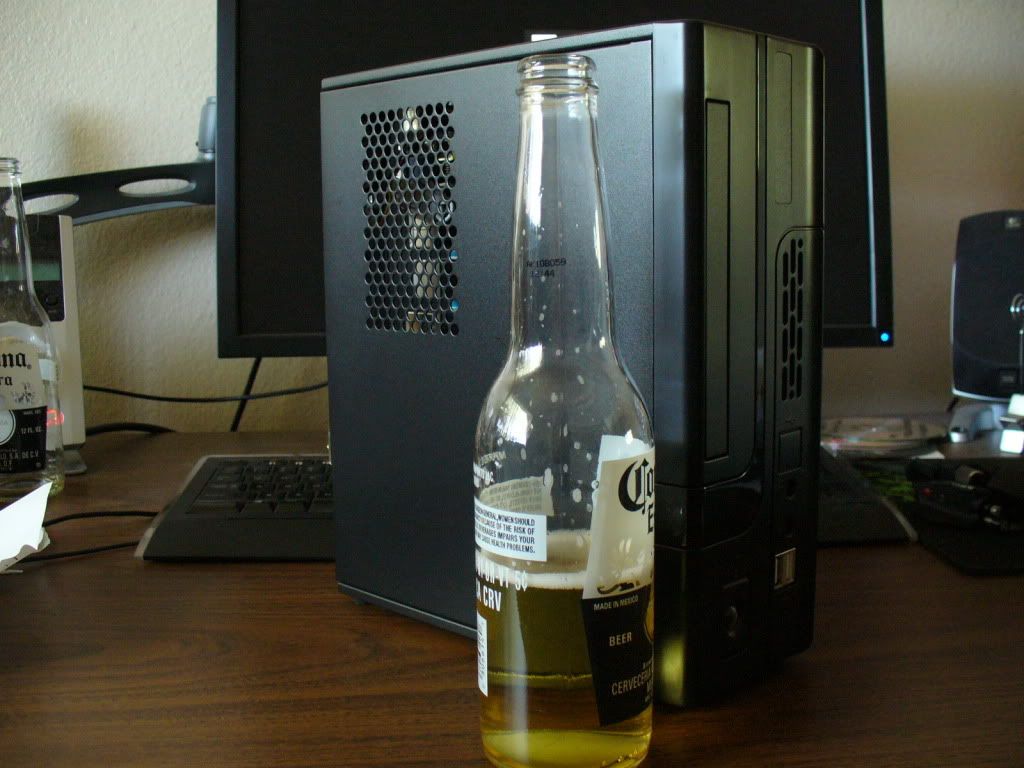 this is the initial build that i used to test fit and temperature to see if i can push it up a notch. it has the stock intel cooler, a half height sapphire HD5570, kingston 40gb SSD, 2x1gb balistix tracers, and a generic 80mm loud fan. all these temporary parts eventually got replaced. i used this video card for about 10 minutes in starcraft2 and it was too slow for me (i don't like running settings on lowest).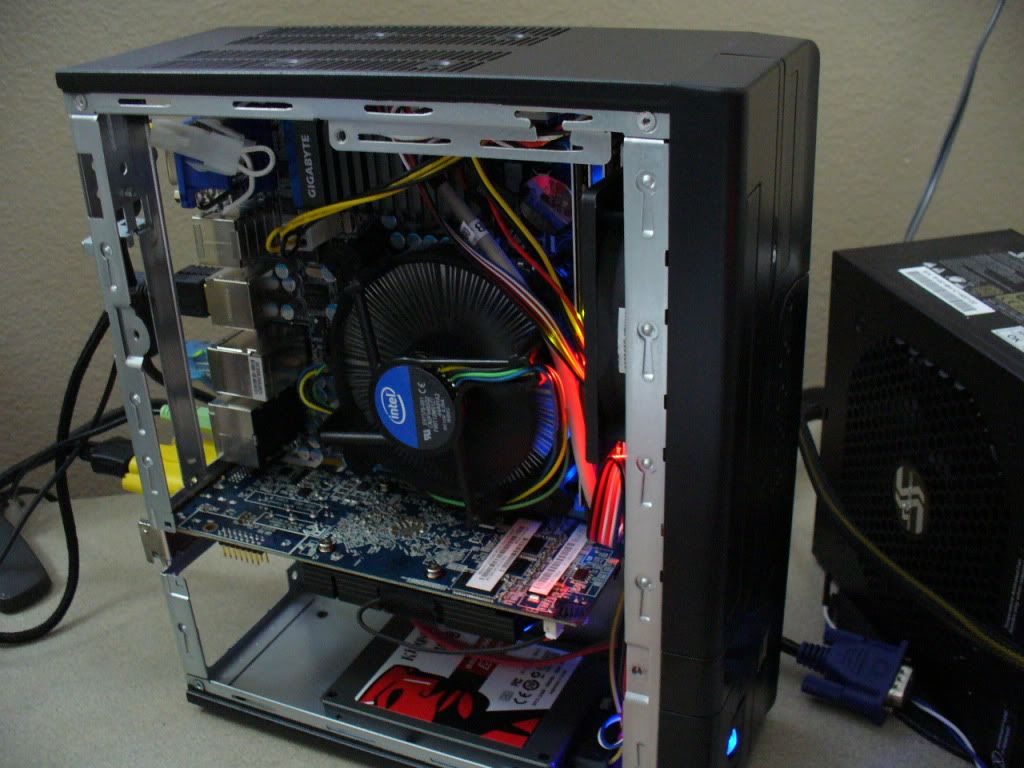 i wasn't happy with how the HD5570 performed in starcraft2, so after quite a bit of looking around. i settled for the sapphire HD5670 because the 5670 is the fastest card without the external pci-e power cable, and one of their models is the only low profile card you can buy. it's actually a double slot card, but i took out the VGA connector to turn the bracket into single slot. however, the cooler on the card is still double slot, but that's not a problem since i took out the stock PSU. you can see the size comparison of the two sapphire cards, the 5670 is just a tad longer than the 5570. if it's just a few millimeters longer, it would not fit in the case.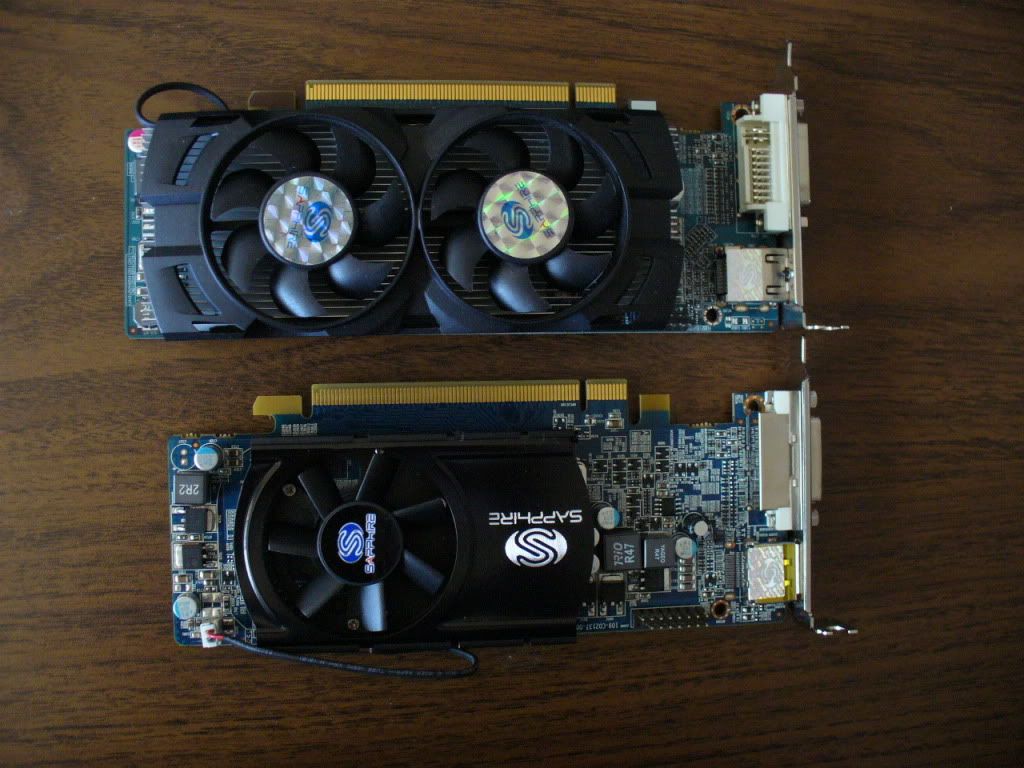 the new 5670 is installed, along with the two notcua 80mm fans and 1x2gb OCZ memory. this is also just a temporary setup to test temperature, power consumption, and fit.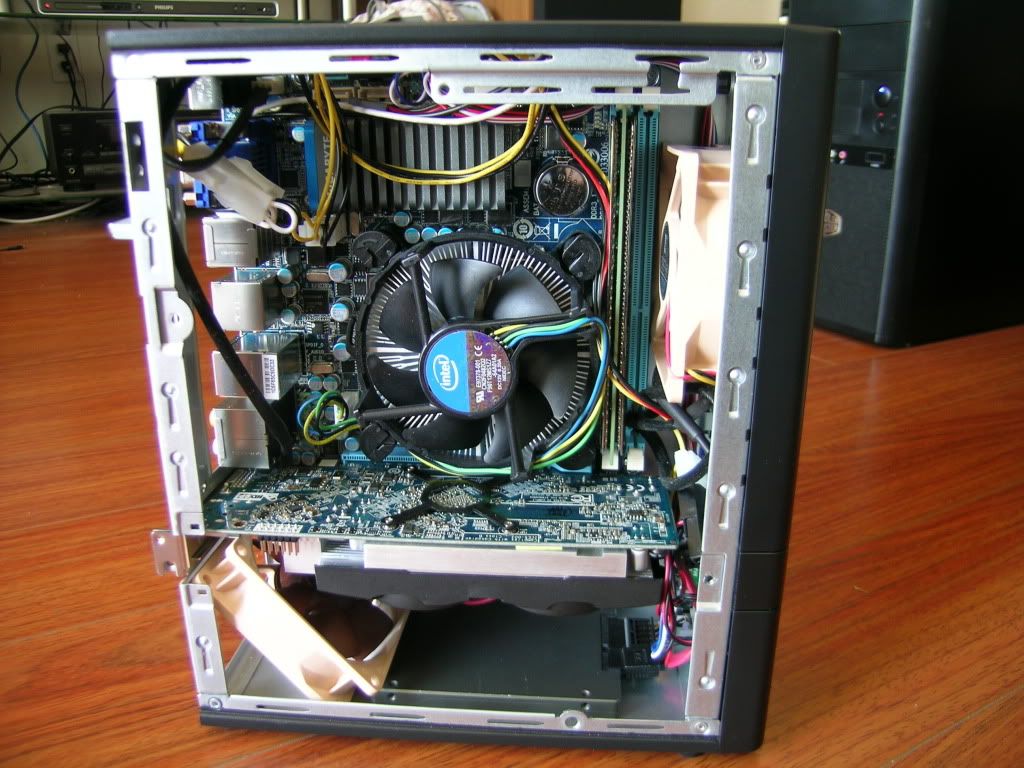 the HD5670 had two tiny fans that was fairly audible when it ramps up, so i figured since i have a noctua fan pointing directly at the heatsink, then why not take those tiny fans off? took the fan and shroud off, which took forever because there was no open easy access to the clips that hold the fan/shroud to the heatsink.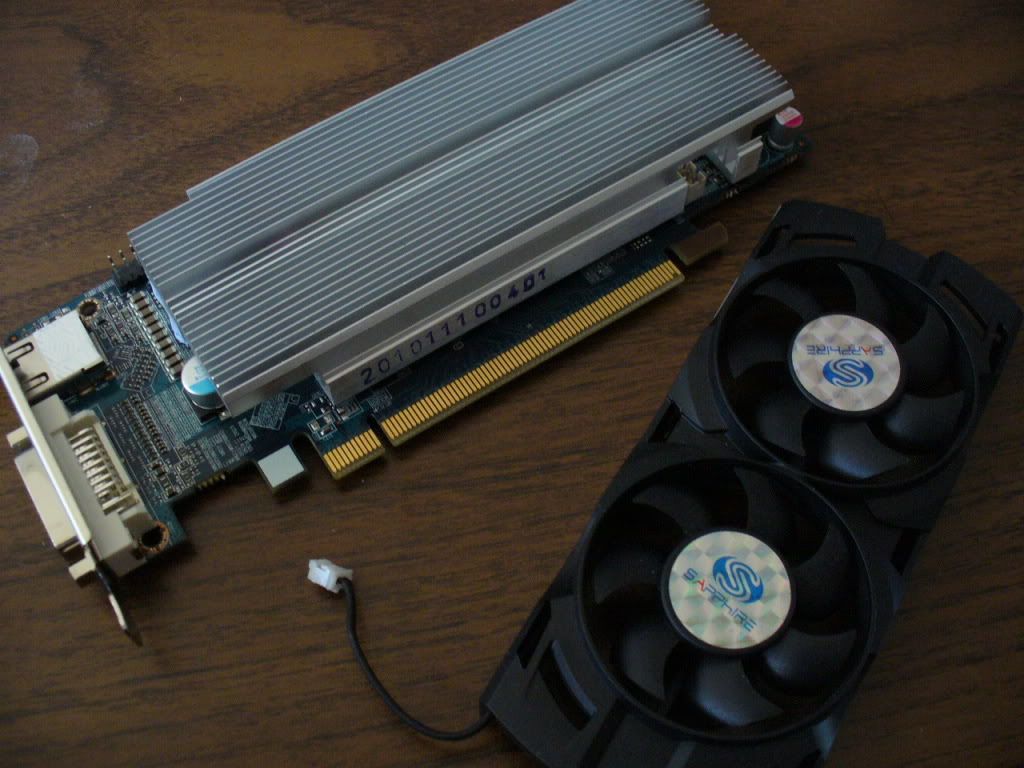 close up shot when it's installed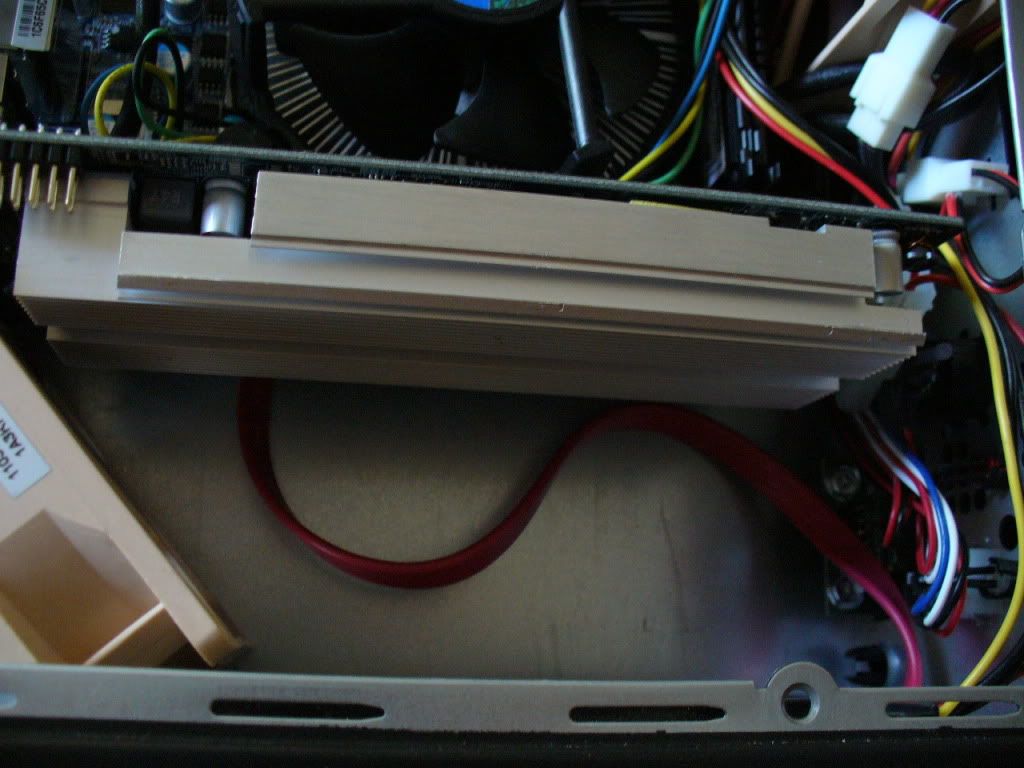 this is the current configuration. i put a small resistor on the two noctua fans, so they're running at 1100rpm. the whole computer is hardly audibly over ambient now, compared to the small stock GPU fan and 1800rpm noctua before.
temps aren't the greatest, but they're acceptable during gaming. 80C max on the GPU, and 63C on the CPU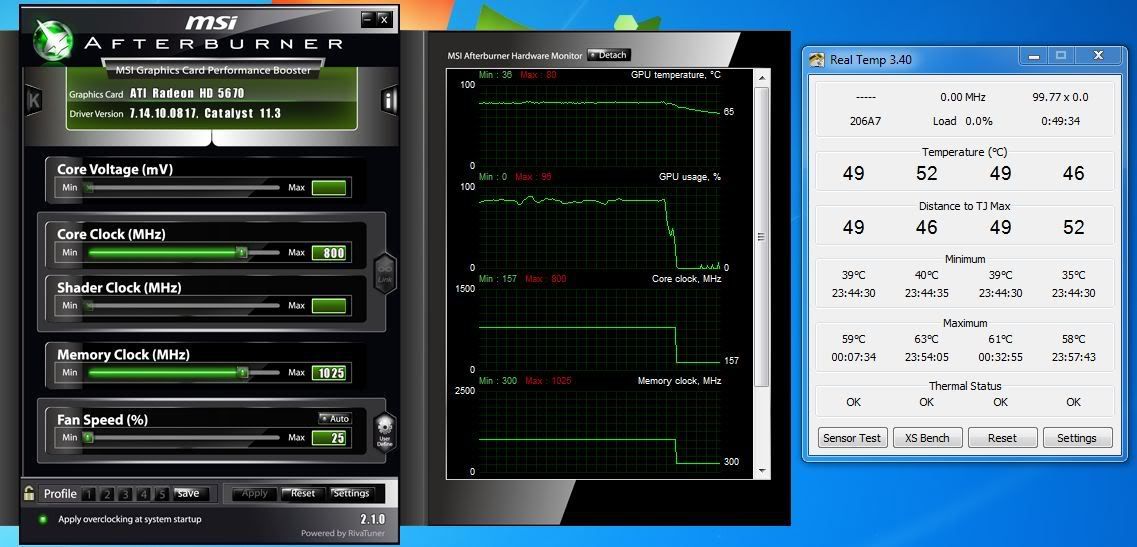 i'm still currently waiting for the prolimatech samuel 17 cooler, which should be the last piece of hardware needed to complete the build. once i get the cooler, i'll start modding the case