I needed a quiet server to run ESXi with a few simple VMs (FreePBX, a web server, hMailServer, OpenVPN and just general testing). It needs to be small & mounted under my desk. Its replacing a 2U server in the rack in the garage while the garage rack is being moved and re-stacked - I need the phone, mail and web servers to be on full time even while other stuff moves around.
CPU - I3-3470T 35Watt 2 core, 4 threads.
MB - Intel DQ77KB MiniITX
Memory - 16GB Corsair Vengeance DDR3-1600
Disk - Mushkin 120GB mSATA SSD
Case - MiniBox M350
PSU - built into the MB, with a 19v 90W power brick recycled from an old laptop
Heatsink - Dynatron K129
Fans - absolutely none
I chose the DQ77KB because it was the cheapest Mini-ITX 1155 board I could find with dual ESXi compatible NICs and a remote management interface. After playing with it a bit its really quite an amazing little MB for a socketed Mini-ITX. Four SATA ports, two of which are SATA-III. A fifth SATA port in the form of mSATA. Two mini-PCIe connectors (one doubling as the mSATA connector). One of the mini-PCI connectors perfectly placed to take a laptop WiFi card, with the IO-shield pre-dimpled for up to three WiFi antenna. 4x USB3 on the back panel and three more USB2 via headers. And a very intriguing LVDS video interface for the 3rd video output supported by the Q77 chipset (basically an interface to drive a laptop-style LCD). It will never be a gamer's motherboard because it only has PCI 3.0 x4 - so no decent video card support. But for almost any other application its pretty darn intriguing. I may buy another one of these just to play with.
DQ77KB with memory, mSATA and CPU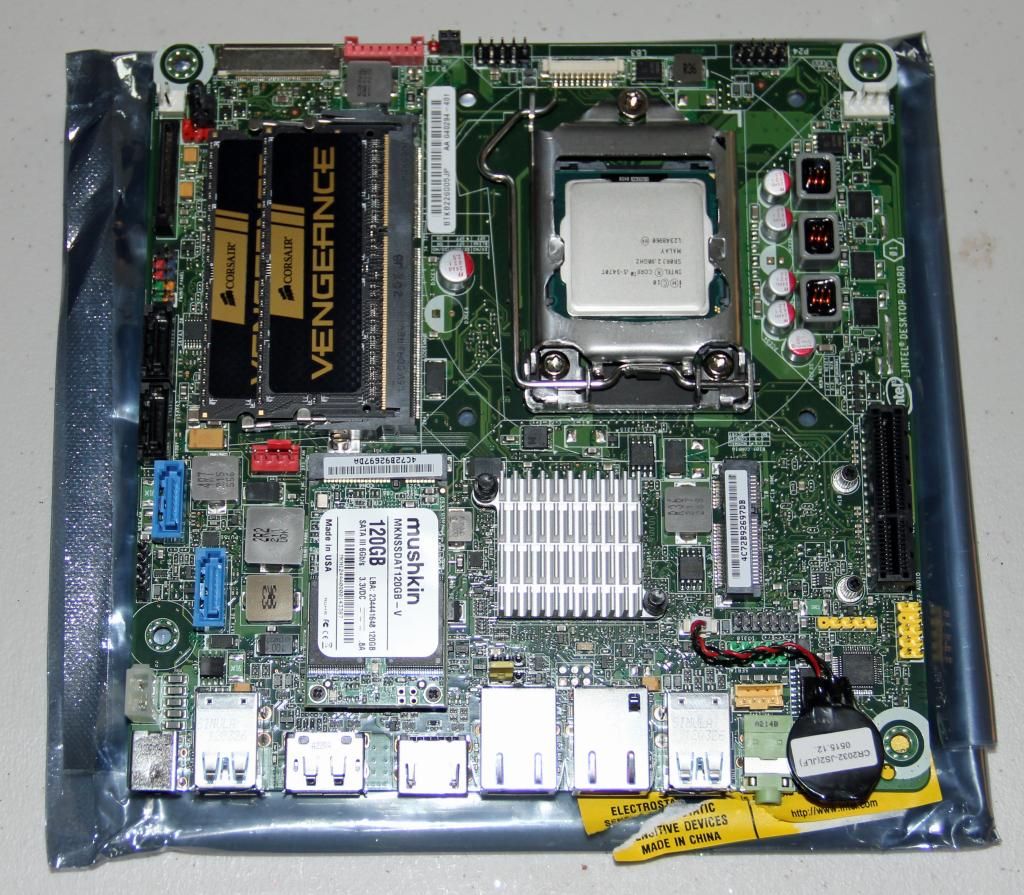 Added Dynatron K129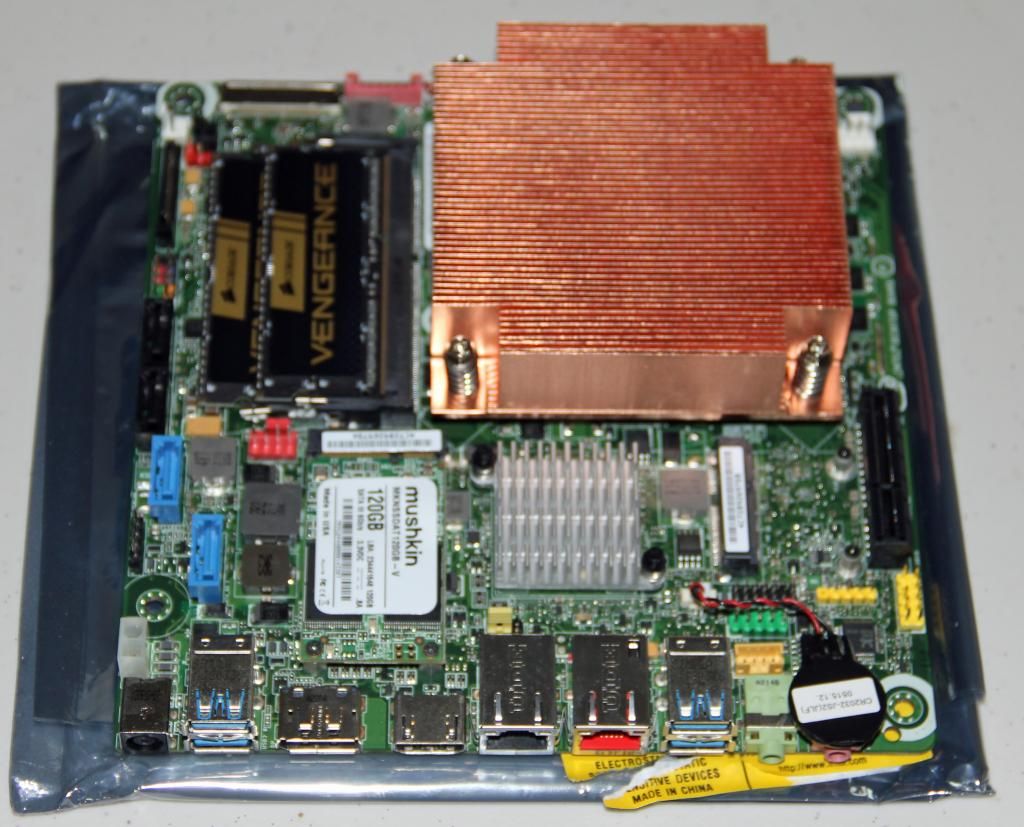 Very little clearance between the Dynatron and the VRMs...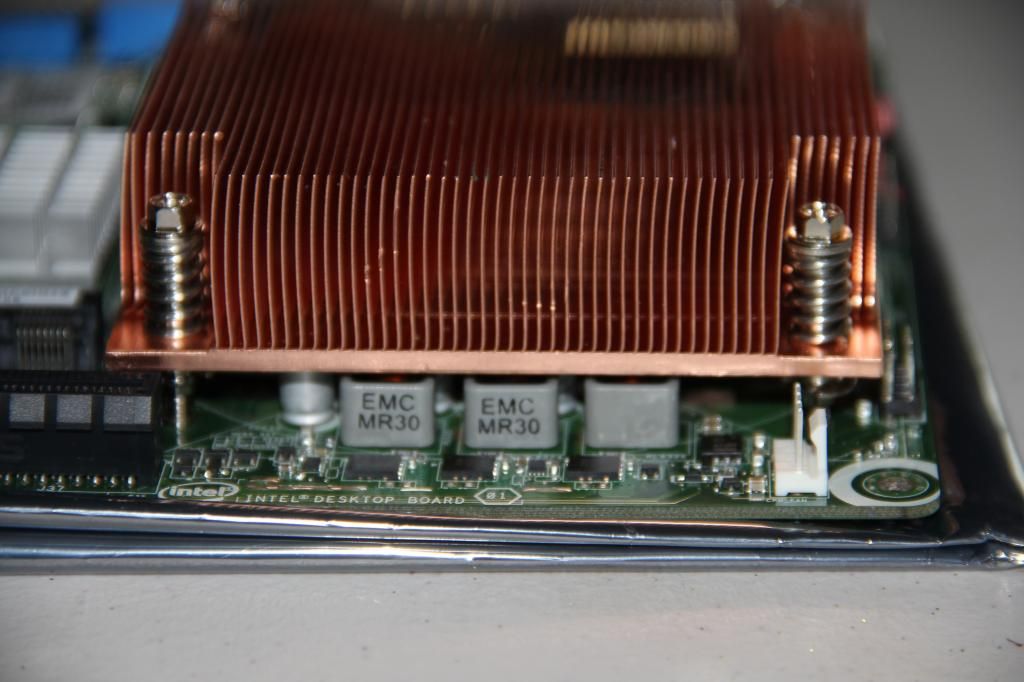 Everything ready to go...
So - everything built and put together. I did have to mod the front-panel connector cable from the M350 because it was too short to reach the connectors on the MB, but that's not much of a problem.
The heatsink got pretty warm to the touch during a 4 hour memtest86+ run. Loaded up Windows-7 to do some burn and temp tests before loading VMware. Ran OK but a bit warm under light windows loads (coretemp read it at 71C).
But...
When running Prime95 it turned out to be a royal fail... Prime95 was stable, but the core temps reached 100C after about 10 minutes and thermal throttling kicked in...