(Most pics: click for big version)
Hi folks,
Been a while since I posted a build on here, mostly because I haven't done one for a while. Not a silent one anyway - most of my builds are quickies for other people and (despite my attempts to convince them otherwise) silence is never high on their list of priorities. "Oh but it's really quiet anyway" is the usual response when I point out that the rattling, whining thing under their desk could be tamed to near-silence with a few judicious tweaks
Anyway, the reason for this HTPC build is mainly for streaming music to my living room hi-fi. I already have a PS3 which I've been using for this purpose up till now, but the sound quality is not the best. I'm not sure whether this is down to audio files being transcoded for streaming to the PS3 via DLNA, something the PS3 itself is doing, or something related to using HDMI audio (even with the PS3's output set to bitstream). Using the PS3 also means I need to have the TV switched on to browse my music, plus, as anyone who owns one knows, the PS3 is quiet for a console but is far from silent - its constant drive whine annoys me when listening at low volume.
Space is at a premium in my living room setup, so a traditional HTPC case is out of the question. Having discovered the Akasa Euler via SPCR I knew straight away that it would meet my space and zero-noise requirements.
My current set up has a network switch gaffer taped to the back of my TV to keep both it and its wiring out of the way. Not ideal, but it works.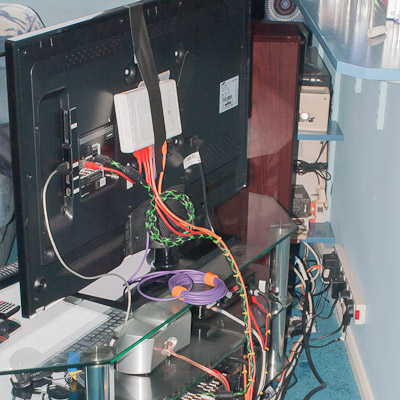 The switch needs to remain in place and both it and the HTPC will be attached to the TV's (200mm) VESA mount. Since the Euler has 100mm mounts, I plan to use a VESA adapter plate in combination with extra long screws and spacers to create a standoff bracket, with the switch on the TV side and the HTPC on the back. My only worry is that the weight of the Euler might be a bit too much to place at such a distance, but the only way to find out is to try.
The HTPC build itself is such a tiny part of this project that it only merits one photo!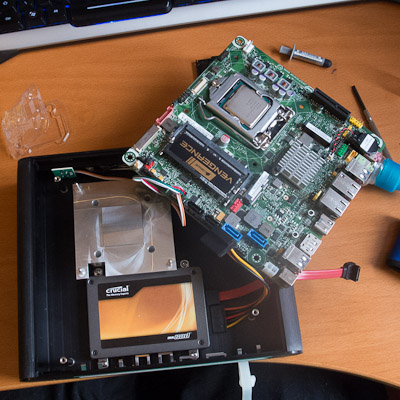 My spec is essentially identical to that of SPCR's review build. My main requirement was S/PDIF output. Of the thin mini-ITX boards I could find, Intel's DQ77KB was the only one which offered this (I did however have to do a bit of
detective work
to figure this out, as it's an undocumented feature which Intel later quietly disabled with a firmware update).
64GB Crucial C300 SSD (left over from a previous upgrade to my main PC)
SPCR's review has plenty good photos of the Euler and there's not much to say about it other than it was a minor PITA getting the motherboard (Intel DQ77KB) to line up properly with its I/O shield.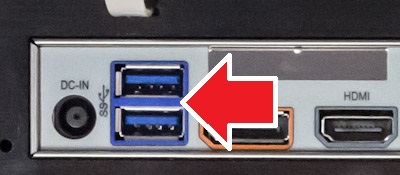 Slight fit problems between the Euler and this board have been
mentioned elsewhere
in the forums, so I won't go into too much detail here, but I am glad I read through the article discussion before doing my build. I found that I could get the motherboard mounted without warping etc., but the I/O shield wasn't lining up. It turned out that, because of the required insertion angle when placing the board in the case, it was impossible to correctly align the two little tabs between one of the pairs of USB socket holes in the shield (which are supposed to rest against the socket body between the two holes and provide a bit of tension on the shield to stop it rattling) and they were catching on the inside edge of one of the USB sockets. A little bit of poking around with a tiny flat screwdriver popped these out and everything then snapped into place.
The mounting bracket is just a 100-200mm VESA adapter plate.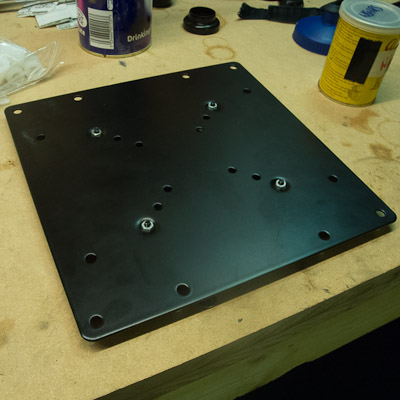 My TV uses M8 screws whereas the plate is drilled for M6, so they have to be widened slightly.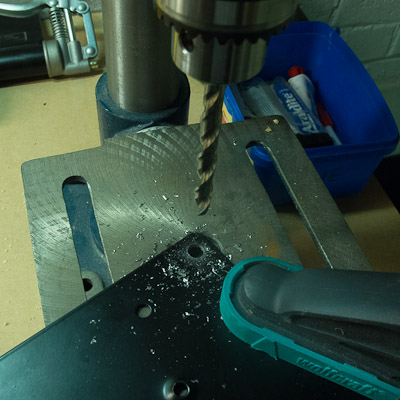 Nylon spacers bought from eBay to be used as standoffs.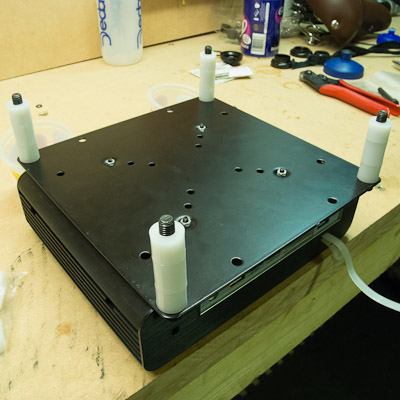 Initially I was just going to use the spacers, but as luck would have it I found some sturdy rubber washers in my scraps box, as well as the conical plastic VESA mounting washers which were supplied with my TV. Combined with the nylon spacers these should provide a very secure attachment. The rubber washers are also handy for stopping the screw and spacers from slipping apart prior to screwing it on to the TV.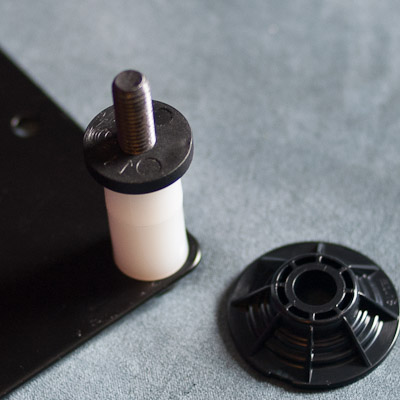 The final screw/spacer arrangement...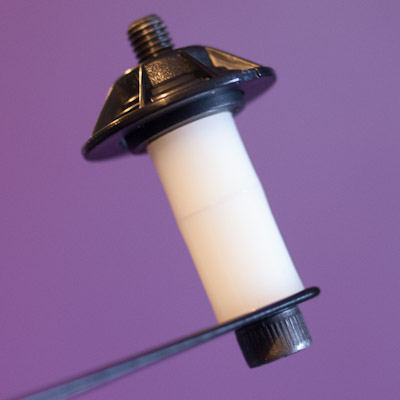 Because the Euler's VESA mounting screws are too small for the adapter plate I have to use nuts on the back side. These, as well as the screws themselves, protrude slightly on the opposite side of the plate and will foul on the back of the network switch, so I have to add some feet as spacers. A fifth rubber washer cut into four pieces and superglued into place does this job.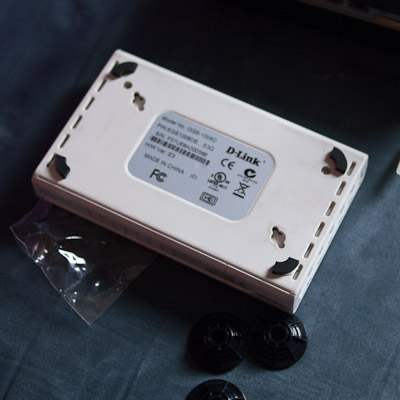 The final assembly. Switch not yet attached to plate.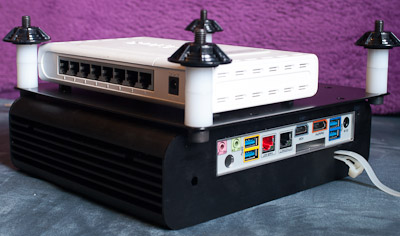 At this point I realise I hadn't given any thought to how I was going to attach the switch. Cable ties to the rescue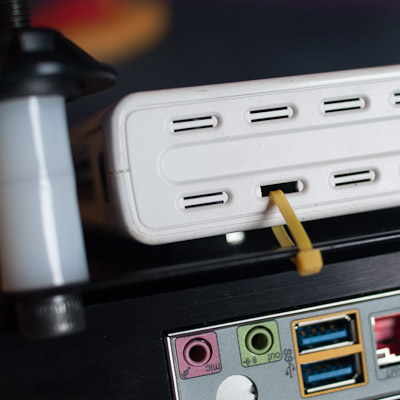 The whole shebang mounted and wired in.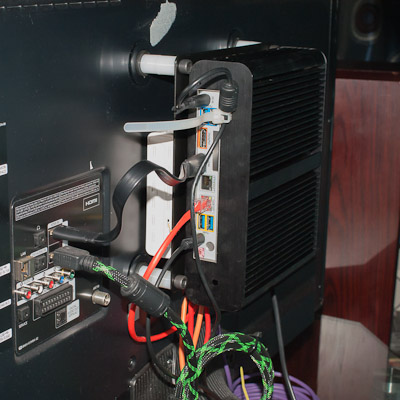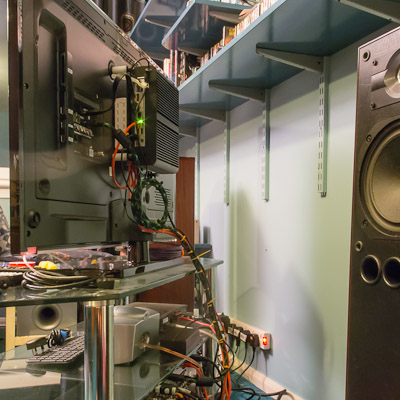 That's it really. A nice, fairly low-cost, easy and satisfying project... on the physical side of things at least. I'm currently wrestling with XBMC to get it working the way I want it to. Might be done with that in about six months to a year...!
Thanks for reading