Long time no update.
No hardware changes but some improvements in the monitoring of fans and temps and now I can easily see all of them.
Under Linux nvidia-settings provides access to graphics card hardware monitoring in a similar way as under Windows. The trouble is accessing this from anywhere else is harder. As such up until now I have had to read sensors in a mix of nvidia-settings and ksysguard.
I stumbled across a Perl script to bring the nvidia-settings CLI output into ksysguard:
https://gist.github.com/frantic1048/41f ... cb3a4c0336
It wasn't entirely what I wanted so I have edited a bit to also display the fan sensors. Now I have this: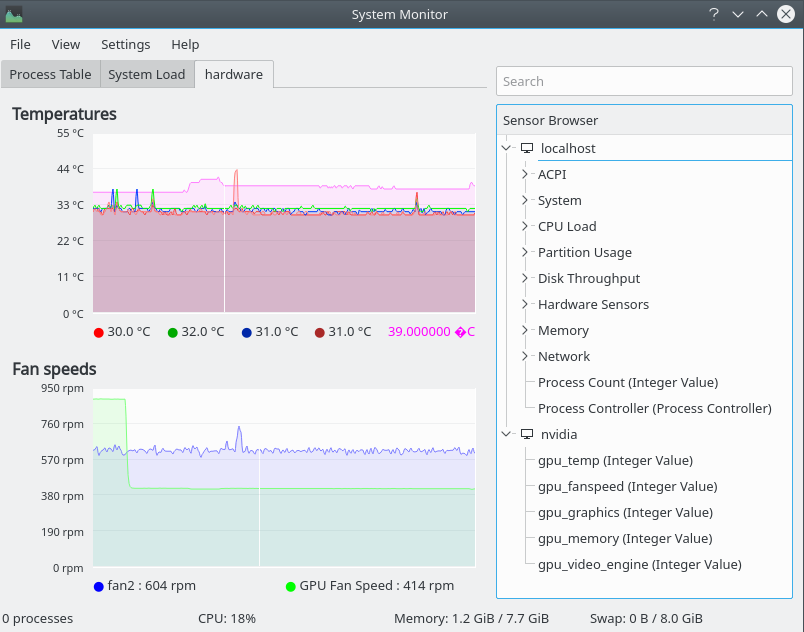 The 5 temps shown are 1 for each CPU core, and the GPU. The fans shown are for the CPU and the graphics card, the only 2 fans in the system, neither of which is standard. NVIDIA's fan control is pretty hard edged when dropping from 900 to 400rpm near instantaneously.
Now that I have temps and speeds recorded in one place it should make tuning a bit easier. A few choice cooling mods might help and then maybe some work on the graphics card fan regime to keep it at a more consistent speed.