The Apple Mighty Mouse is quite possibly one of the most versatile mice a home user can have with their setup. Compatible with Mac OS X (10.4.8 and newer only) and also with Windows XP and 2000 surprisingly, Apple was surprisingly trying to make something anyone could buy. Through my testing it also works very will in Ubuntu Linux, x86 and x64 no less for any OS. Now, of course, its really not for everyone.
The Apple Mighty Mouse can use proprietary drivers in Windows XP, however you wouldn't want to, as you would have 4 unused buttons. Left and Right click work out of the box, and the scroll ball works as well, however the side buttons are not as tame, and their effect has varied throughout the boxes I've used this with.
For anyone who's taken apart a mouse in the past, more specifically a two button mouse with or without a scroll wheel, you notice that there really isn't much to brag about inside there, just two buttons respectively for left and right click, and your scroll wheel, limited to vertical movement on screen. If you've ever dared to see the inside of a Mighty Mouse, well, you'll learn a few things about Apple. Of those things, the main one is that they don't like the end user servicing their products. In fact, there are 10 spots where the Mighty Mouse is glued to have the lower light grey ring in place. If you can't get that piece off though, you can't get the mouse apart. You'll probably also notice that there's a second smaller light grey ring on the bottom of the mouse, but thats not glued in place, so don't worry about that, it can simply be carefully pulled off and replaced with ease.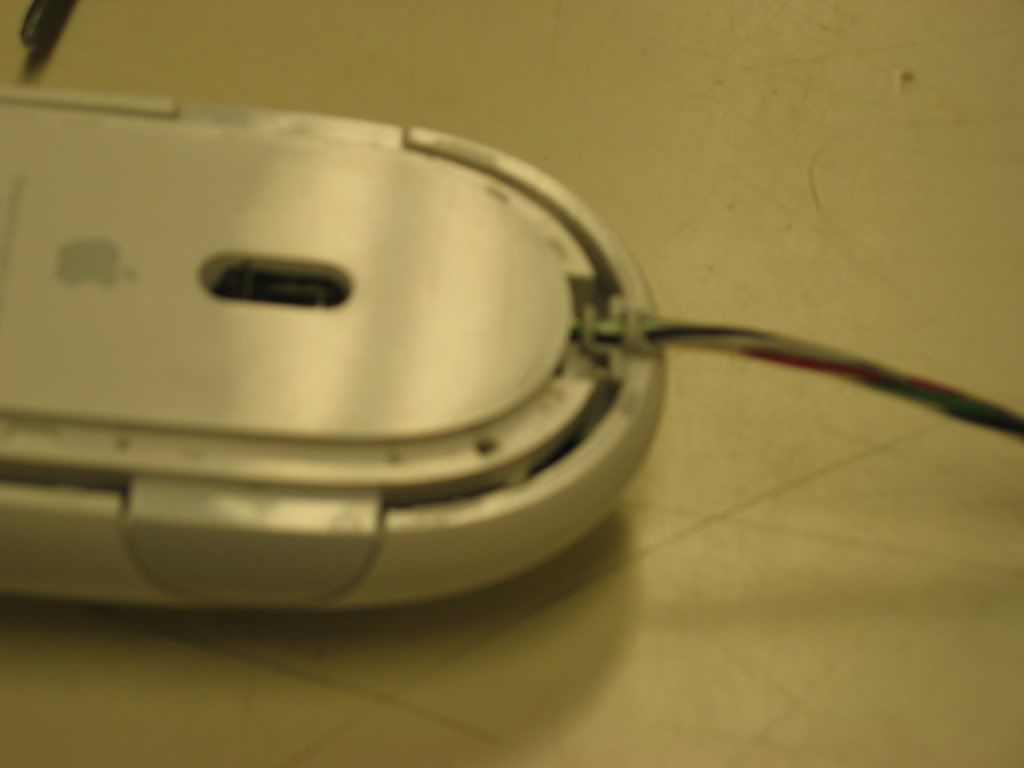 The inards of this mouse however, are more than just your standard field *ahem* PS/2 or USB mouse.
Sporting either optical or laser tracking (depending on if you get the USB or Bluetooth model), this mouse is quite precise, however, you'll notice that if you use it in Windows or OS X, the tracking may seem very slow, almost pathetic unless you increase the speed immensely. Personally, I have this mouse sped all the way up in OS X, and it still feels a little sluggish to me. However, there are more important parts to this mouse that you need to take into consideration. The fact that this mouse has left and right click is simply amazing when you get inside it, its one of the many technological wonders of the computer world. There's one button for clicking, yet somehow, you're able to right click. Somehow. The Mighty Mouse also sports a 360 degree scroll wheel. This little mouse, which is actually smaller than most mice (not counting laptop wireless mice), is capable of scrolling in any direction on screen, making it very easy to move around web pages in small screens, or large pictures that don't fit completely on your screen.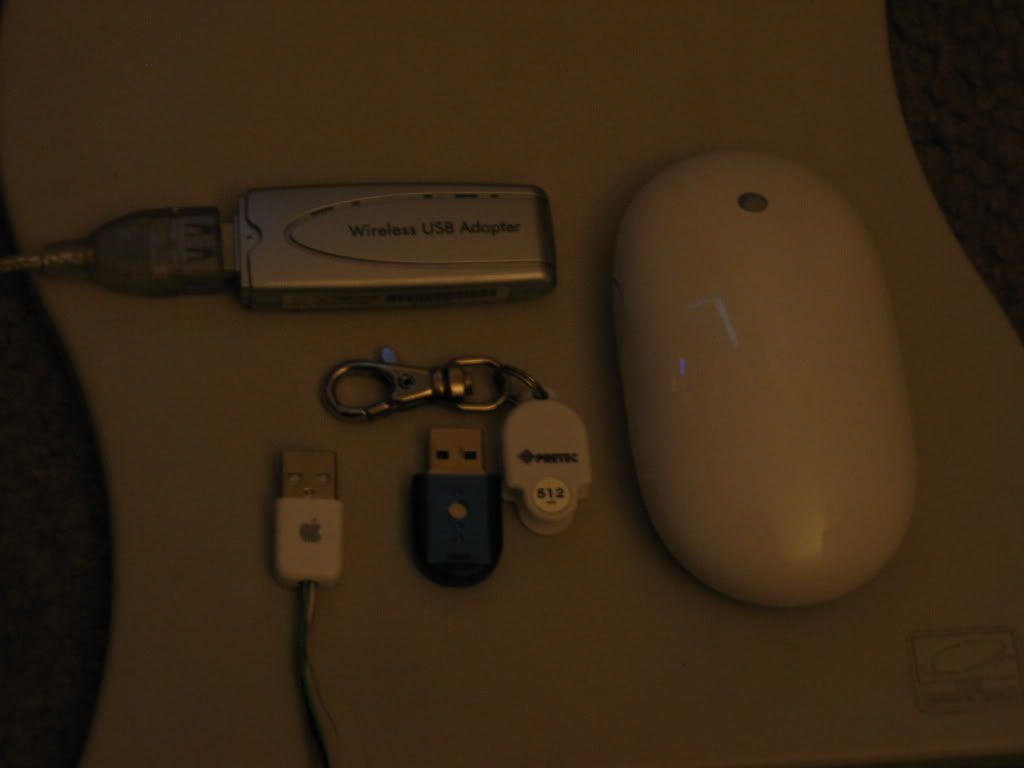 In OS X, squeezing the side buttons will open Expose, which will display all of your windows, which is a very handy feature, makes it easier to have many windows open at any given time, for any type of editing, or for typing papers, where you're switching between websites and your choice of text editor. On many mice, pushing down on the scroll wheel will allow you to actually scroll by moving the mouse up or down, however, it differs in OS X, as it will open up Dashboard, and show you all your widgets.
This is definately not a gaming mouse, it doesn't track nearly fast as it should for a gamer, that and the right click involves lifting up the finger you left click with, so any game would just be a hassle. But that's no issue for an OS X user, as there are so few games made for OS X, it really doesn't matter. For Windows, the included software allows you to program your Mighty Mouses buttons to do what you want, just like you can in OS X, however don't expect to be able to find a Mighty Mouse without the software and do this, the Software that allows you to program the mouse buttons is only available with the mouse, so don't lose that CD!
The Mighty Mouse that I'm using you'll notice is not sporting its white tail, as it was actually destroyed as having a Mighty Mouse in school really isn't on my big list of advice for anyone. Kids start fighting over who's doing what, and all of a sudden you've torn the USB cable. Well, actually the USB cable has been modified and fixed to work, this mouse is missing both grey rings from the bottom, and it has problems scrolling, first it was the left, now its up, however aside from complaining about that, I'll give it to you as if it were a different mouse, that wasn't sporting a completely custom made cable.
The inside is laid out basically on top of itself, the scroll wheel and sensors for the buttons each have their own ribbon cable, that is plugged into a small circuit board that is almost the size of the bottom of the mouse. Neither cable obstructs the other, and there is no stress point for it, I should also note how firmly they stay in place. One completely unrevealed secret of the Mighty Mouse is that its only got one button on the circuit board.there's no way to tell how you get it to right click, so take it from me, there may actually be magic in this world. That, or we may as well get the X-Files back to solve this one.
The Mighty Mouse is purely albino, you can't buy one with a black tail, or in fact any other color but white with light grey. Under it all however, is very low gauge wire, so don't tug on your USB cable from either side, it really cannot take it. The Scroll wheel, though I have no pictures, is independently controlled depending on the direction you move the ball. instead of only two sensors for the mouse, there are 4 separate sensors for sensing each direction.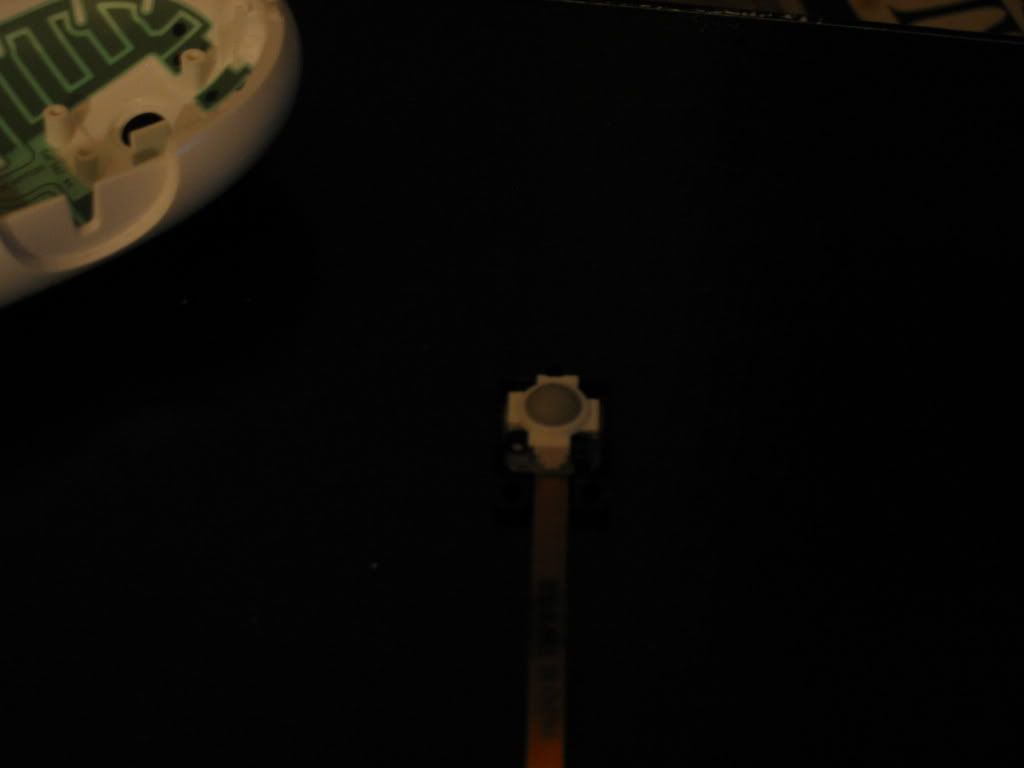 The optical beam, and the laser guiding system for this mouse is also extremely bright, so exercise your upmost caution when lifting it up to show anyone while it's plugged in, you don't want to hurt anyone with a silly apple product, now do you?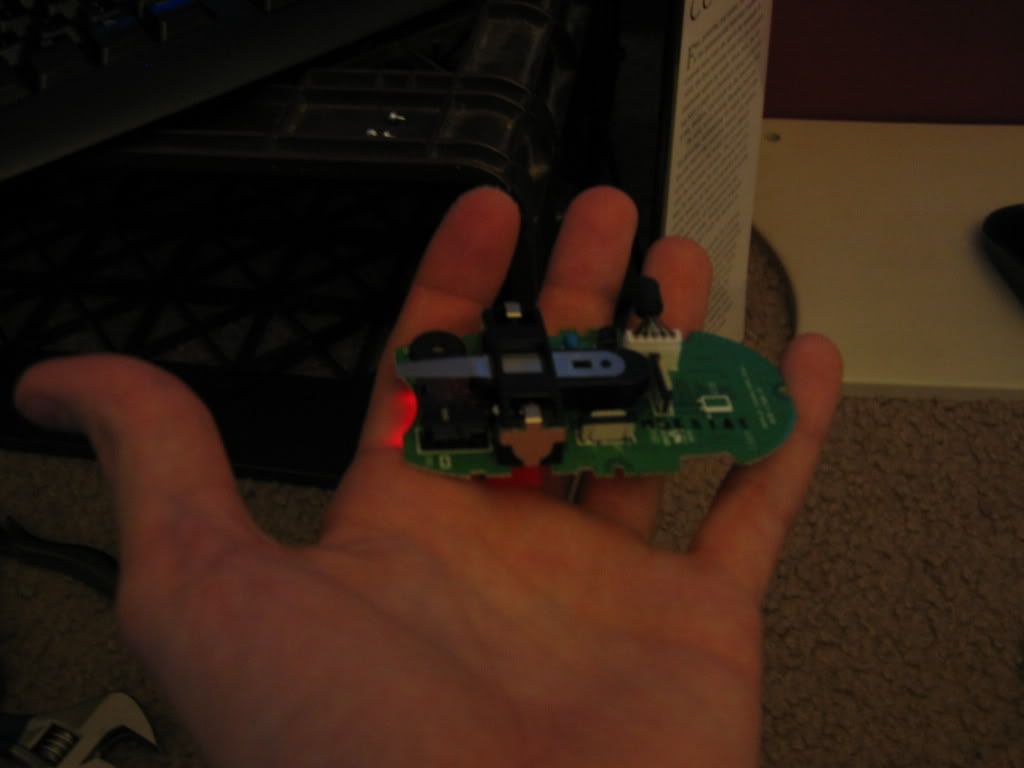 The tail-less Mighty Mouse which is exclusively bluetooth, is quite frugal for a mouse, operating on one or two AA batteries, so it's weight depends on what you have in it, which will ultimately affect how it performs. The USB Mighty Mouse weighs less than 3oz, and truly is worth its money for those who like it, however it does cost nearly $60USD, the Bluetooth is closer to $70USD. For an additional $12 you can add a 3 foot USB extension, and most users will want it unless they plug into their keyboard, the roughly 16 inch tail doesn't reach very far. However, one thing to note about the USB Mighty Mouse is that it is not USB2.0. Its strictly USB1.1 speed, however it will work in both a USB 1.1 or USB 2.0 port. The Bluetooth Mighty Mouse is much more sensitive to surfaces however, as the laser system is actually 20 times more sensitive than the standard Optical guiding on the USB version. The Bluetooth mouse is capable of giving flawless work on 1 inch thick glass without anything under the glass.
Its definately not a silent mouse, but its one of the quieter mice in the world, as it requires quite a firm touch, however the scroll ball is a quaint relief from the normal mouse, as instead of a rough loud click, its a soft, higher tone thats much more tolerable, and even quite fun to hear sometimes.
Overall, the Mighty Mouse is worth every penny for those who like it, however you will definitely want to use it before you buy it, because you may not like it, its definitely not for everyone. Its very well built, and has many features most mice available today cannot supply a user with, however at the same time it is not the most durable of mice, so its definitely a "Handle With Care" object, as fixing it requires breaking it somewhere else, which is a major hit unless you're still within warrantee. I'd easily suggest this to anyone who does editing of any kind, 3D, Audio, Video, Imaging, its a great help, looks great, and performs amazingly.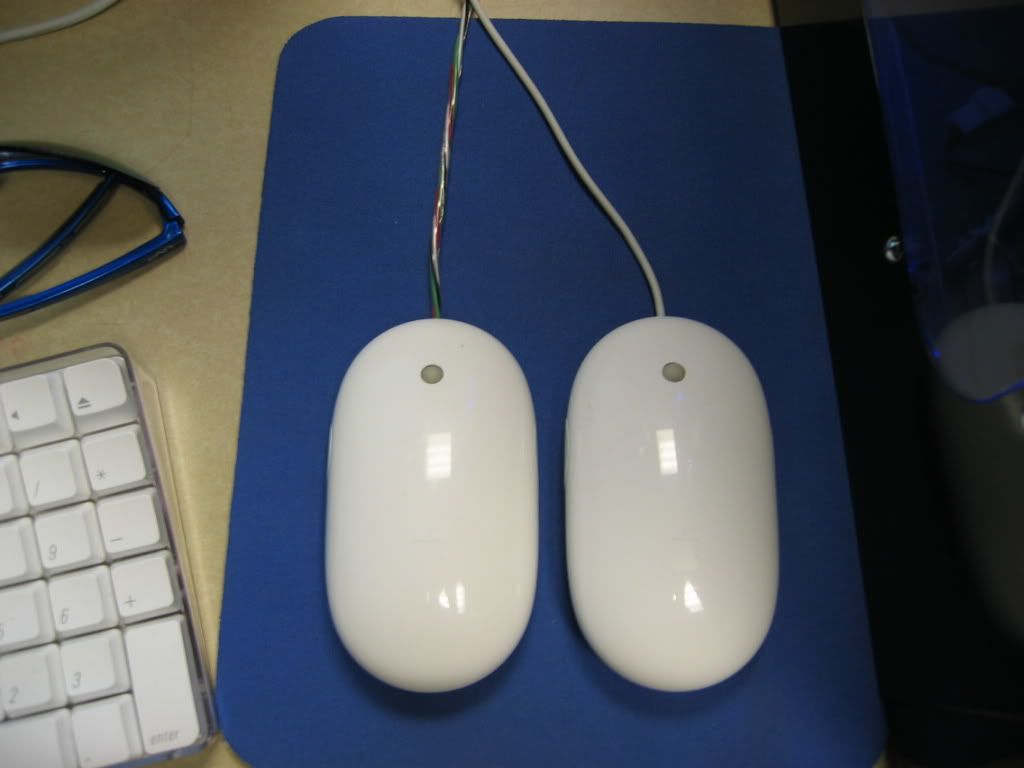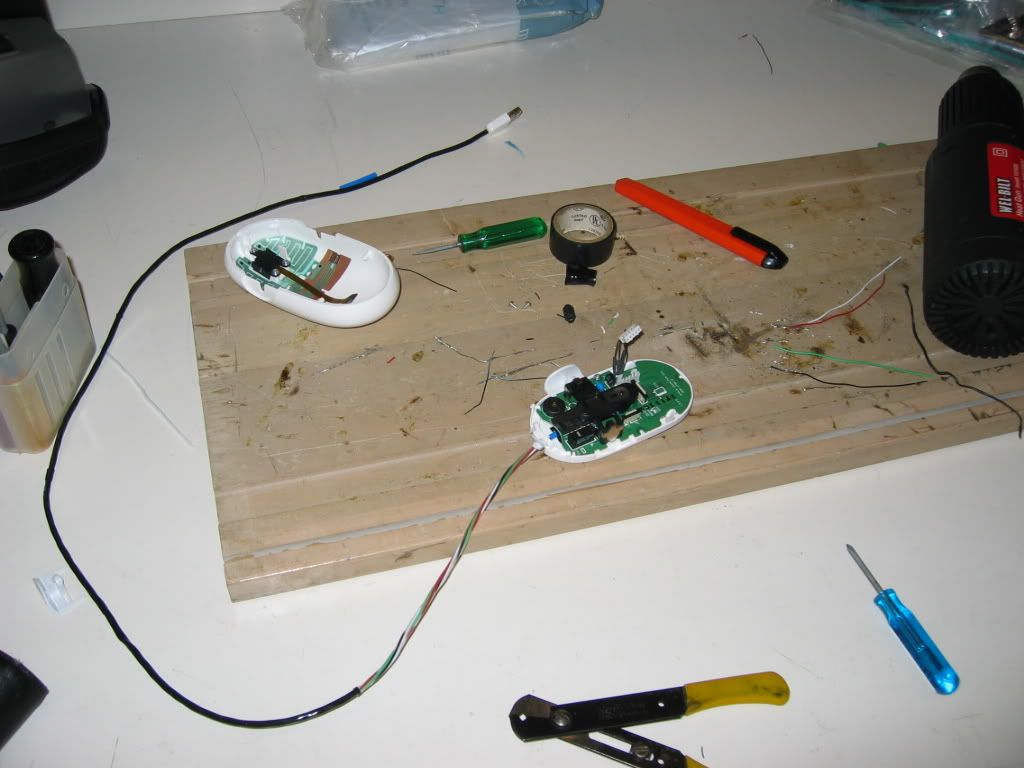 this review is not meant to endorse apple, simply make a great product known. next up is my sound card if i have time. pictures were taken with a Canon Power Shot S410 Digital Elf, i had poor lighting in some, which would account for the lack of quality...i may have to take the mouse apart again, so i may be able to re-do some of them. shots taken around my computer are to show that it does work, and its size [and yes i do run OSx86, and it recognizes the mouse perfectly, as well as the pro keyboard i was using]. i hope you all like it, i've been working on it for the past hour about.