I recently decided to take 5 completely different ITX builds and put them into different scenarios at work, and see what they were capable of doing in terms of looks, noise, heat and general ease of use. Two of the builds are for customers, one is for a POS install, and one is for bench work at my shop, and this is the final one, which is my personal HTPC. I'm not going to go into detail about all 5 of them, I'm only going to go in depth on two, and casually mention the others as I move along. For this installment, I'm specifically going to talk about the InWin H-Frame ITX case with 180W PSU.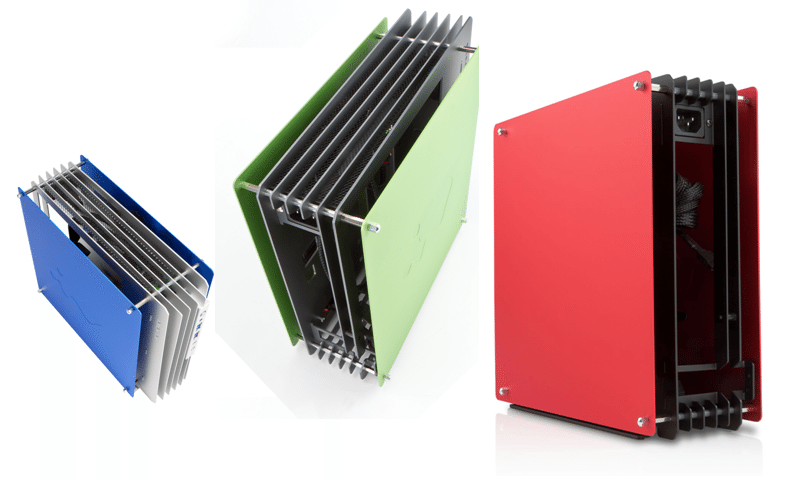 This is no cheap case by any means, especially for the size. To compare this for a moment, my dual Xeon bluray editor is in a $50 NZXT Source 210 Elite. My previous desktop build was in a $40 Cooler Master Elite 330. We'll say I've never been one to splurge on the case, though like many other users here on SPCR, the original Antec P180 was the computer case made of our collective dreams of quiet computers, and it came with a reasonable price tag for the goodies it offered.
Something to know about the H-Frame right off the bat is that it certainly wasn't geared towards silence. It's several pieces of steel cut very well, and spaced apart, with a motherboard tray that has a backside which doubles as a HDD/ODD bracket. It's about as open as it gets for a case that still has side panels.
The finish is extremely well done on the colored panels. Not only is the green a brilliant color, but it actually doesn't scratch very easily either. Tightening the thumbscrews that hold it in place doesn't seem to leave a scratched off ring, which says something about the quality of craftsmanship into a case not only this small, but offered by a brand that even 5 years ago, I wasn't very crazy about.
About 7 years ago, I helped a friend put together the first DAW I ever worked on, and he ever got to use. The resonating factor was that it was in a cheap InWin case. I forget the motherboard by now, but what I remember was that it was an E6600, 4gb of DDR2, a 250gb HDD, an Abit mATX motherboard, and a standard DVD burner. The case was rough around the edges all over. Plenty of sharp edges, and when it was done, it looked like a computer. Nothing impressive, like most computers at the time.
So when I take a look at the H-Frame, I'm very impressed. When I first found it, I was browsing through Newegg's ITX case selection, where I found a grand total of 3 cases that caught my attention. That's it. The Xigamtek Nebula, the Antec ISK300, and the InWin H-Frame. Each case is completely different, and for different things. The Antec is more industrial looking, all business, the Xigmatek Nebula is honestly just impressive looking, as simple as it is, and the H-Frame stands out in the crowd. I nearly forgot how big an ITX case would be, as the proportions of the H-Frame are different from the ISK300. Instead of being longer and skinnier, it's more square. The H-Frame pieces are not all straight, some are cut at an angle, and it breaks up the general appearance of the case. It ships with both a metal and glass cover for the motherboard side of the case (though it could fit on either side you want).
The power supply is 180W and has what many of us would have just called a screamer, because it's cooled by a 40mm fan. The fan speed is not labelled, nor does it need to be, because it's easily one of the quietest power supplies I've ever received bundled with a case. It's not super high powered, nor does it offer a wide selection of connectors. It simply has enough plugs for the devices you can fit in the case.
1x 24pin ATX
1x 4pin P4
1x SATA/floppy (piggybacked connectors)
Around the back, the SATA connections for the hard drives are the convenient hot-swap setups which allow the hard drives to just slide into place. This thing is convenience wrapped in a bow. There are no extra connections to tuck away, everything has a place to go in this case. The single SATA plug goes through a dedicated cutout on the case to behind the motherboard where the drives all fit, and the floppy connector goes to the slim ODD connector, and both hard drives are shared from a Y cable from the single SATA power cable.
The P4 connector is on the short side, it didn't quite reach around the motherboard following the perimeter, so I used an 8" extension that was lying around, which was more than enough, but not excessively long for the use.
The 24pin ATX cable is also a little on the longer size, but nothing that can't be worked with. Overall, aside from the P4 extension, the cables were plenty long enough for any ITX motherboard you could put into this case. Since no larger graphics card will fit into this case, there's no need for a 6 or 8 pin power cable. This power supply was clearly well thought out for what this case can handle, it wasn't just any off the shelf unit picked. It's obvious that InWin made it clear what they wanted this power supply to do.
This is an ITX case, and therefore will really only fit ITX motherboards. ITX boards can go all the way back to the 775 platform, and sport some pretty hot CPUs, but many of them will require more power than this power supply will handle, if you really think long term about it. So this case isn't for someone who's just throwing parts together, it's for someone who's really planning a build down to each little component that's going in. Let's take a look at what parts are going into this build for some reference:
Gigabyte Z97N-WIFI
Intel Core i3 4130
4Gb DDR3
Intel 80gb SSD
HL Slim DVD Burner
Every cable you need is already in the case, so forget needing SATA cables or anything else for this build. This case has it all. The premium price for $159 (on sale from $199) is not really that high, considering the build quality, and attention to detail OOTB.
I haven't run this system through the Kill-A-Watt yet, but I suspect the power draw is in the range of 40-50W. For the 180W power supply, that's nothing to worry about. It runs a lukewarm temperature, keeping the fan running at all times, but very very quietly. Even in the quiet of my living room, once the system is powered on and idling, the power supply isn't even noticeable. You'd think it were fanless. The stock Intel cooler that I used from an i7-4770 over the i3 cooler was just to make sure this build is as quiet as possible. The CPU idles at a regular 37C, and peaks around 43C under moderate use, which is audio playback with visualizations. The system is very quiet overall. It's not 100% silent, but once you turn on any music, even in a slight break of classical music, you will not notice this machine running at all. The heat has nowhere to build up, so it just escapes the machine instantly. There's no worries about having an intake or exhaust fan, because it just isn't necessary.
This system was made on a strict budget, and most of the parts were recycled from other machines. The motherboard and case were new, the CPU was bought used, the SSD was used, the RAM was from a machine that got upgraded, and the DVD drive was from a dead laptop. Even with the glass side panel, the machine does not generate an intolerable amount of heat, and the stock i7 cooler is more than capable of handling the load. Under game play, the machine would definitely start to make a slight hum of the fan to keep the integrated graphics cool, but by no means will you ever start to notice it over the speakers.
To further increase cooling capacity, the Scythe Shuriken or Noctua NH-L9* coolers will easily fit in the case, allowing for even lower temps if required, without even causing much of a budget increase. In the future, it's likely that one of those, probably the Noctua, will go into this case.
This machine was built as a test machine for the beta SteamOS. It works 100% out of the box. There was some slight hiccups getting the display output configured correctly, but once the OS was up to date, the machine truly works 100% OOTB. The components were not selected for their ability to work with SteamOS, I expected far more work than what was required to get the machine working. The SteamOS was rooted, and I also keep XBMC installed, which has marginal support (some plugins seem to have lost support and compatibility), but the build is a media center. With that in mind, the case will look great with any media center. It's ultra modern looks, and ability to allow more than adequate ventilation mean that this case is a great option for smaller builds with SSDs to run simple machines.
I would not run this with an overclocked Core i7, I fully expect it to make a far less tolerable amount of noise with components like that installed. However, with the i3 and a beefier cooler, this case is an excellent solution.
The case does not have any sharp edges, so you wont have to worry about any cuts working in this, though it's a tight fit. Getting the motherboard installed in this case was nothing short of a mind bending puzzle to keep the wires out of the way, but the motherboard aligned correctly. If you for any reason have a third arm, you'll be able to get everything together on the first try. For everyone else, the motherboard installation is not exactly simple, but the end results are well worth the slight struggle getting things installed. Where the motherboard installation is difficult, the SATA drive installations more than make up for it, they simply slide into place, and are held in with four screws. Even without screws, the build is very stable, but I'd rather be safe than sorry, as this build does some traveling (as it's for gaming), and I don't want anything falling out along the way.
To recap, the front panel is very clean, the rear of the case is very accessible, and everything feels very solid when put together. Despite the price tag, for anyone looking for a unique HTPC, I strongly recommend this case. It's worth the extra effort for a clean installation, and it's very high quality. The finish was not scratched by any tools I wasn't expressly careful with while completing the build. I would not make the mistake of saying this case was geared towards silent PC enthusiasts, but it could easily handle a lower power, fanless build, as it allows adequate airflow, as well as generous panel gaps for convection to work naturally. With the right cooler and fan combination, it could easily handle an i3 or lower tier i5 without breaking a sweat for general HTPC or basic word processing/web browsing duties. The power supply is very capable and very quiet, and was a great match for the case, both hiding very neatly in the design, as well as being able to accommodate just about any system you could stuff into the case.
If I had to give the case an overall rating, it would be a 9/10. The cable lengths could have been better, to avoid needing extensions, and as a whole, the wiring was difficult to make neat, requiring full disassembly in order to re-route some cables. Given the nature of the H-Frame design, it will never be perfect or easy to hide everything, but the stiff shrink wrap and sleeving made it more difficult to do. Otherwise, the build quality and finish is amazing, and my mind is definitely changed about the products offered by InWin today.