Hi folks,
My name's Bruce, I've been into PC silencing and reading SPCR for a few years, but only recently joined the forums. I'm still somewhat of a noob, as this is the first forum I've ever posted (and
wanted
to post) to with any regularity. I'm a programmer from Edinburgh and I like puppies and long walks in the park on autumn days, ooh and open fires and and and... Yeah you get the idea. Anyway, hi!
On to the reason for the post... I bought a Phantom 500W back in December and it
turned out to be faulty
. Because of the weight and cost for shipping it back to Antec in the Netherlands (about a quarter of the price I paid for it in the first place, which I wasn't willing to pay) they instructed me to cut the cable loom, send them a photo, then dispose of the PSU.
The thing is, there's nothing wrong with the supply - apart from a VERY loud ringing or buzzer noise which starts anywhere from 5 minutes to 2 hours after power-on. It hasn't failed or faltered at any point and doesn't apparently overheat - at least the external shell never reaches anything like a dangerous temperature.
I detest waste and really couldn't bring myself to throw an essentially-functional piece of equipment in the bin, plus I know at least one other person has had the exact same issue, so I decided to open it up and take a look. If I could find the malfunction then so much the better but, from a brief Google, there aren't yet any disassemblies online so I figured I could satisfy other folks' curiosity as well...
Opening it up wasn't too difficult. Once the fan assembly and external socket plate are removed, logic dictates that the top plate (which is keyed to the sides) should slide off, but that isn't the case. It's held in place longitudinally with a couple of inaccessible pins, so you have to lift the lid off vertically. It's a tight interference fit, but comes away with a bit of steady leverage.
The lid has several thick pieces of white thermal transfer material, all of which were obviously in good contact with their respective components and heatsinks (no photo, sorry). The only concern I would have is with the thickness of the material itself (~1mm) but then I'm no expert and I'm sure it does its job just fine. Also I guess it would be very hard to engineer the component and heatsink placement to a much higher tolerance anyway.
(Most photos click for full size)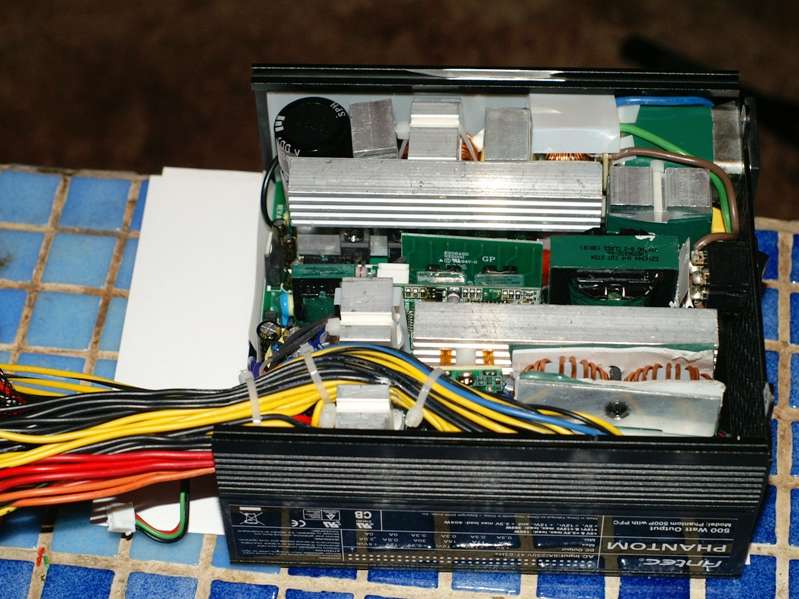 The box is truly jammed with components. There are numerous daughter boards and ICs - something I can't recall ever seeing many of in other supplies. Not visible in the photo is a thermistor which I believe is for the fan controller. It is fastened to the base of the large heatsink in the top half of the picture.
The next step was to start the supply, leave it for a couple of hours and hope the fault would manifest itself. Unfortunately it didn't, despite the internal heatsinks getting quite seriously hot. So it would appear the fault only happens under load.
Before going on to test the unit under load, we decided to remove the board to get a look in the sides and underneath. This is where the surprise lay.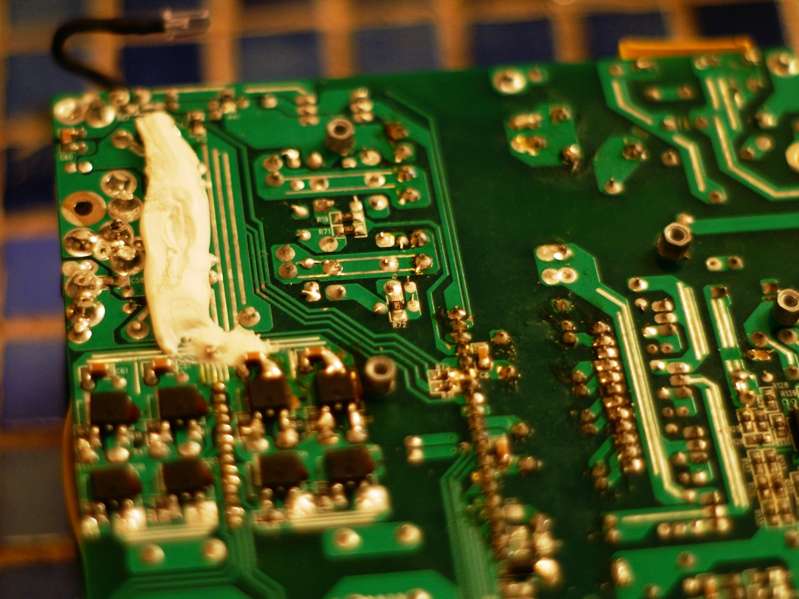 It's not immediately obvious from this picture but the board is, frankly, a mess. There are about 50% dry joints, lots of waste flux, and some very messy work indeed. Also, if you look closer...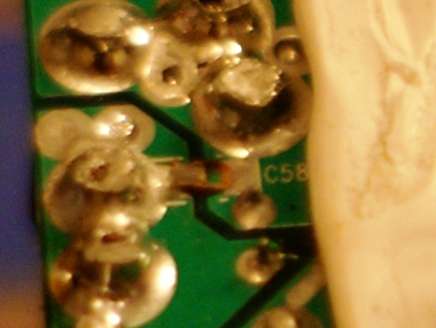 Was the capacitor destroyed before final assembly, or has it blown clean off because of a fault? The remains of it are definitely still there on the board, but there was no debris in the case or scorch marks etc. to suggest the magic smoke got out at any point.
Also not visible in that photo, but nearby, one of the PCB tracks at the edge is sheared almost clean off the board.
Any experts out there who know anything about surface mount capacitors and their behaviour under stress? Anybody know what might have caused this, other than it being snapped off after the board was assembled? If so please let me know, because I don't have a clue.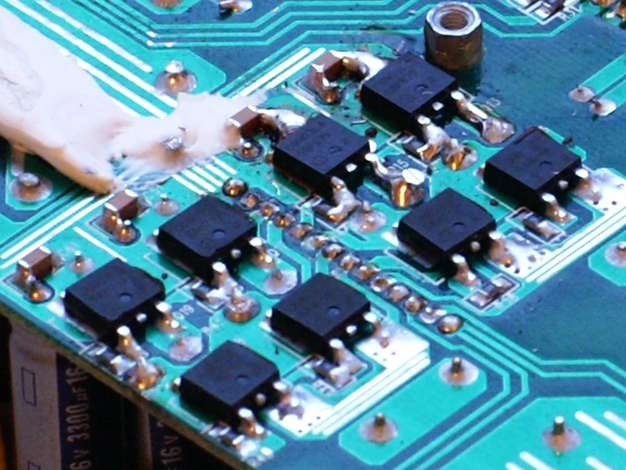 These huge gobs of solder on the mosfets are also a mystery. Some of them were much bigger but have been chopped off. Anyone know of a legitimate reason why it should be like that?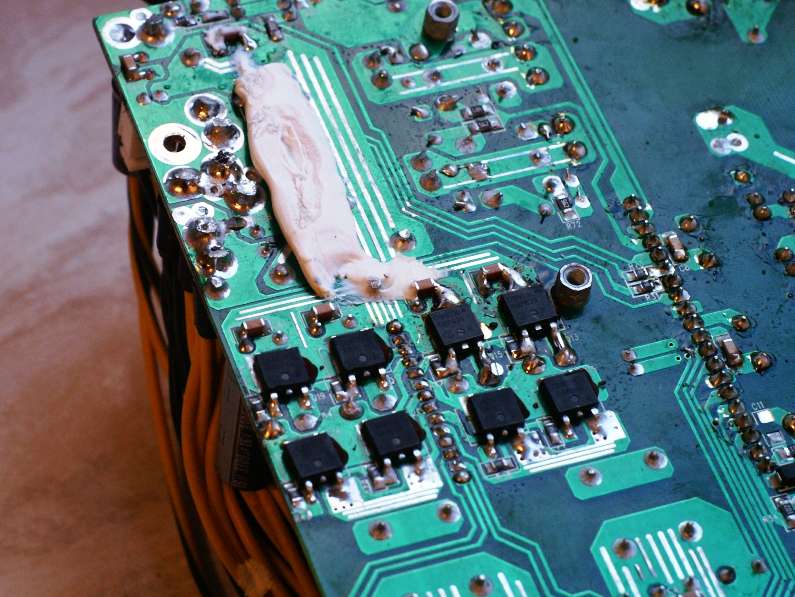 The above photo, taken in better light than the first one, shows the general mess slightly better. The big gob of silicone is directly beneath the wire loom area and two big coils which are both shrouded with smaller heatsinks (see top photo). I'm guessing it's there to fill the gap on the underside in order to stop the wires from pushing the heatsinks out of contact with the lid. I can think of more elegant solutions.
All in all I'm very surprised with the low standard of workmanship in this supply and I wonder whether it was remanufactured (badly) from a warranty return. If all Phantom 500's are this badly built, it would seem to bear out the higher-than-average failure rate suggested by
MikeC's poll
. Or am I making a big fuss out of nothing? Anyone from Antec care to comment? (PS: Antec - sorry I didn't throw out the supply as agreed - I couldn't resist having a look!)
Next step is to clean up the PCB and resolder as many of the joints as possible, but I don't know what to do about the busted capacitor. Any PSU gurus out there care to comment, or even offer some guidance?
Finally, props to my housemate Paul for helping with this (it's his pet project)!