Hi
This week I added full elastic suspension of three 3.5" drives in my Define R4.
Since doing it, I've realised I could've done a better job. I would like to refine it, and any advice for that would be appreciated.
Here are the photos: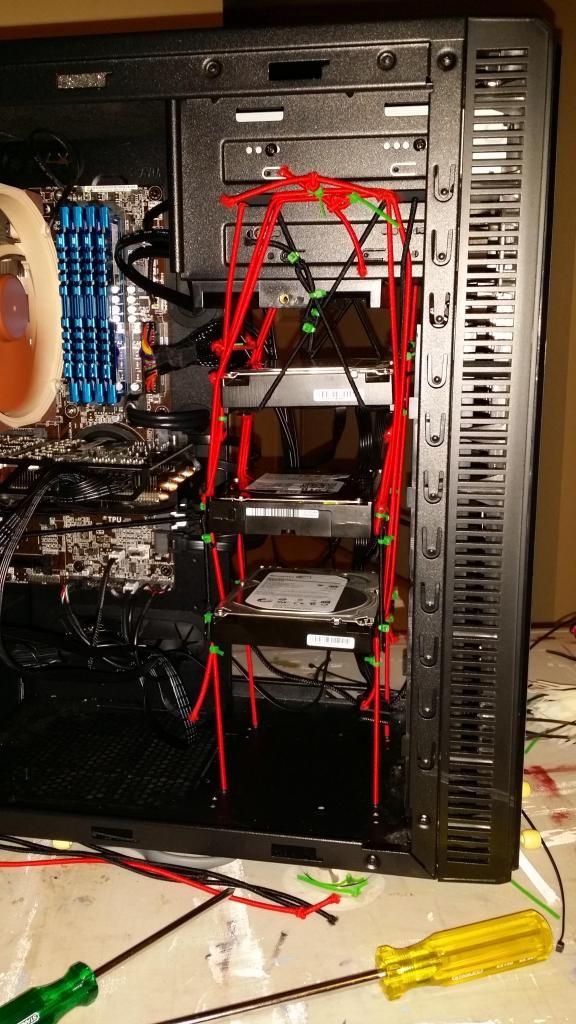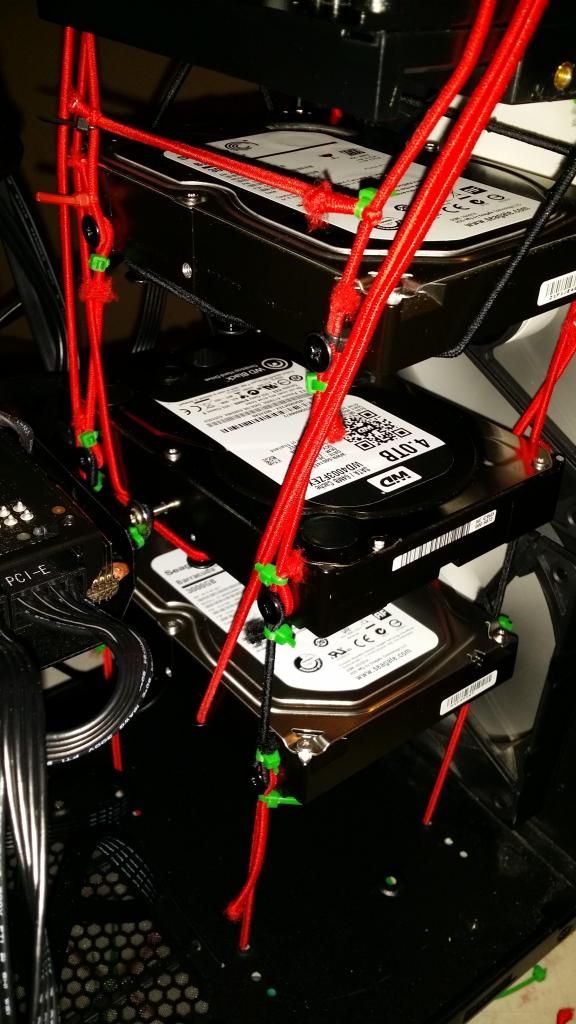 The drives are suspended twice. Firstly, top-to-bottom, with attachments for that on the side screws. The second way is with two loops of elastic hanging down for each drive, and these loop around screws in the bottom of each drive.
Strengths of the current job:
- The drives are supported both two separate elastic methods. If one fails, the other should still work (in theory). See problems.
- Works with the cases own holes, no need to drill/add anything.
- Tethering the middle drive to the back of the case pulls it back away from the front fans.
- Quite stable, the drives dont move around much when the moving the case.
- Effective in removing vibration noises, no resonance sound issues.
Current problems:
- The top-to-bottom ("Link A") elastic connections were done first. So the second hanging-down loops ("Link B) were added after. If Link A is removed, without first removing Link B, Link B will pull the drives back up potentially causing them to hit the case or the other drives.
- Too much elastic. Very fiddly job to replicate. Could be simplified and refined.
Ideas for redoing and improving:
- Set the drives first in the hanging-down position, so the elastic for that is pre-stretched to proper length. Doing this first would prevent the drives from springing up if a link in the top-to-bottom was broken.
- Use two elastic cords (double up) for the top to bottom. Keep them as one piece (rather than segmented between the drives like they are currently). Simply cable tie loops along the elastic as you go along. Keep the ties slightly loose and adjust the elastic stretch as needed before fastening.
- Use longer drive screws in order to place grommets between the drive and elastics for even more vibration dampening (in theory).
- Use an easily adjustable fastener to join the ends of the elastic, making tightening/loosening a much easier job than it is with cable ties. A small enough clamp would be good, but so far the only suitable thing Ive been able to find are resealable cable ties (much easier to loosen than the normal ones).
- Above improvements would reduce the amount of elastic, and the time needed to complete the job (it would be much less fiddly).
- Add another feature that would somehow reduce the operating noise of my drives (and not just the vibration/resonance).
Would be very keen to get your feedback!