I've built hundreds of computers, and I've come to the conclusion, that using filters will keep the computer a little cleaner on the inside, but causes them to be louder. This is because you have to run the fans much faster to compensate for the poor air flow.
I've learned to go all or nothing. The day I discovered this is when I was holding a low speed 120mm fan in my hand. I had it blowing on my face so I could feel how much air it was blowing. While it was running, I placed a standard fan grill over it. I could not believe how much a simple fan grill cut down the air flow! It was then that I realized how much air flow resistance is produced from fan grills, case grills, case bezels, fan holders, and filters.
With this new knowledge, I built my
D8000
. For many hours, I tested with multiple combinations of fan grills, filters, bezels, fan speeds, etc. I carefully monitored temperatures and noise levels. The conclusion was very evident. The lowest temperatures and noise levels were obtained with the no filters, case grills cut out, and minimal finger guards (if any). With this combination, the fans can be turned way down, and the noise level and temps were at their lowest. The only disadvantage is more dust will accumulate inside the case. But over the last 4-5 months, strangely, the dust build up has not been that much more than if I had all of the filters in place.
The reason that I posted this is because there are many SPCR member's who don't want to commit to this technique fully. The top reasons I've read are:
1. They don't want to cut the case (cutting out the case grills and front bezel).
2. They think that noise escapes if you do cut the front bezel.
3. They don't want to clean the dust inside the case.
I can certainly understand these objections, but I just want to encourage you all to try this
low resistance, low fan speed, low noise technique
. It works well with
cases with 120mm fans
.
D8000 project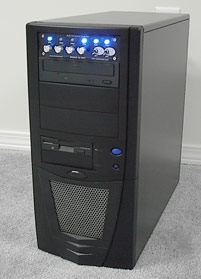 Chenbro 611 project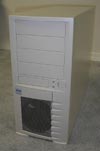 Supermicro 750 project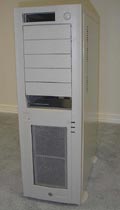 Beige LX-6A19 project (
http://www.laddergames.com/images/bmt/IMG_3416r.jpg
)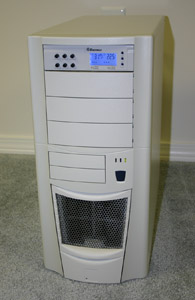 You can't hear these computers unless you stick your head under the desk. My wife used to come back to her computer after a few hours and forget if it's running. Since the monitor has gone black by then (due to sleep mode), she used to think the computer is off and hits the power button. I have now trained her to look for the lights or wiggle the mouse to verify that if the computer is actually on or off
That should give you an idea of how quiet this technique really is. Feel free to read this post with a grain of salt, but it works for me, and I thought I'd pass my findings along.