This is my first silence oriented build. I've just finished installing the hard drives and Windows 7 is now installing.
Case:
Antec Solo
(P150) with
Arctic Cooling 12L
exhaust fan @ 12V,
2x Acutake 92mm
intake fans @ 6V each (wired in serial).
PSU:
Antec Neo HE 430 PSU
Mobo:
Asus P5Q-E
CPU:
Q9550
cooled by
Scythe Ninja Rev B
(including backplate assembly) with
Yate Loon DS12SL-12
@ 6V (wired in serial with GPU fan)
GPU:
Gigabyte GV-R485MC-1GH
(silent HD 4850) with the other Yate Loon @ 6V
RAM: 4x
Corsair 1GB DDR2 PC2-5300 667MHz CL4
with heat spreaders
HDDs:
Western Digital 120GB 2.5"
(system),
Samsung HD103SI EcoGreen F2
1TB 5400rpm (data) mounted with the "suspension system"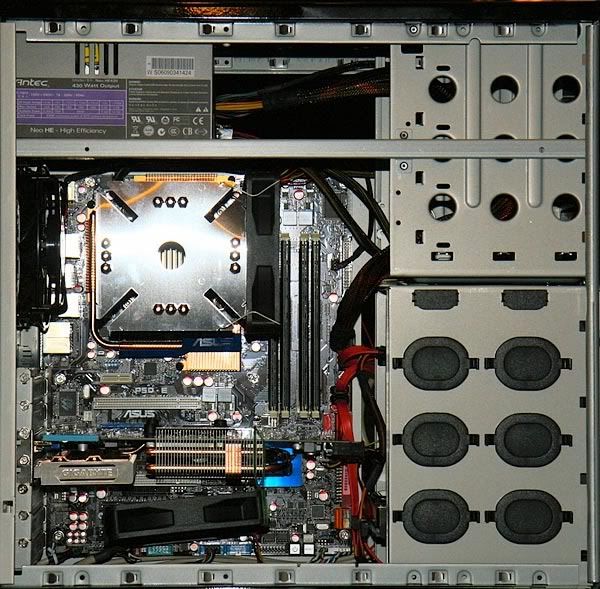 Yate Loon fans seem a bit clicky (I'm clearly struggling with fan noise vocabulary) which surprised me. I might send them back yet.
Acutake seem good, low noise, however the two fans each draw a different current, meaning one is running at ~5.6V, the other at ~6.4V. I originally ordered Nexus but the supplier said they'd had a problem with the batch and recommended these. They come with a rubber washer for mounting with screws but I have used silicone "screws" in the end.
Arctic cooling fan is great. I'm really impressed with the very low noise.
Overall I'm really pleased with the low noise level from this build, though I've yet to put it through its paces. It's certainly not silent, but compared with every other system I've had over the years it's damn close!