Hi guys!
This is my first post here and I thought you might be interested in the project I have just finished.
My previous PC was completely fanless and water-cooled. So far so good, but since I don't need a gaming PC I wanted to build something really puristic without all the annoying water cooling equipment.
The initial idea came by reading the i5-670 CPU review here and I really liked the integrated GPU concept because you can get rid of a graphic card.
No graphic card means much less power consumption, heat and noise (in the case of an actively cooled card).
So I built everything around an i5-660 CPU (TDP 73W only, i.e. 10W less than an i5-670).
No fans also meant that all components would have to be exposed to as much fresh air as possible. So I thought a (Mini-ITX) test bench would work much better than any PC case (=> Lian Li PC-Q06, with custom water jet cut side panels to get some air to the PSU).
The passive PSU I have used is the Seasonic X-400FL (again due to the positive review here).
Mainboard: Gigabyte GA-H55N-USB3, equipped with a Zalman ZM-NB32K chipset cooler being the only one that fits under the CPU heatsink (the original cooler did not look very effective to me…).
CPU heatsink: In a passive set-up you need to get enough air through the heatsink fins, i.e. you have to choose one with as much space between the fins as possible. The best and largest one I have found was the silentmaxx TwinBlock.
This No Moving Parts system reaches the following equilibrium temperatures (i.e. no temp change even if you wait forever) after about 45 minutes at a room temperature of 23C with Prime95 running on all four cores and with an 1080p HD video running at the same time:
CPU cores / CPU sensor / chipset: 68C / 58C / 60C
The equilibrium temps under normal conditions (watching movies, internet etc.) at 23C room temperature:
CPU cores / CPU sensor / chipset: 38C / 27C / 48C
Here are some pics: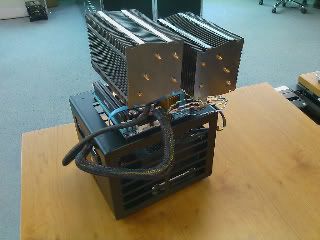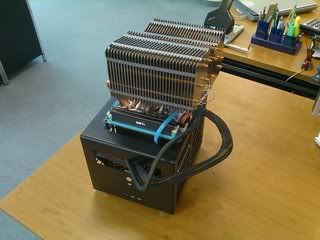 A gallery with larger pics can be found here:
http://s179.photobucket.com/albums/w292 ... FanlessPC/
So, whatcha think?
Cheers,
rkay