I'm working on a new build; it will be my new primary desktop and my first attempt at triple monitors.
Components
*
Case
: Thermaltake Level 10 GT
*
CPU
: Intel i7 2600K
*
mobo
: Asus P8Z68-V Pro
*
RAM
: 2x4GB Corsair Vengeance 1600MHz
*
graphics
: Asus HD6950 2GB DirectCUII
*
sound
: Asus Xonar DX
*
OS disk
: Corsair F60 60GB SSD
*
storage disk
: WD Green 1.0TB
*
ODD
: A Blu-ray player I had lying around.
*
PSU
: Seasonic X-760 (the X-560 and X-660 was out of stock)
*
CPU cooler
: Corsair H60
*
fans
: 3x 200mm case stock fans, 2x 120mm Scythe Gentle Typhoon 1150rpm (for the H60 radiator)
With non-passive graphics this system can probably never be bedroom-quiet, but I hope it can be living-room-quiet (i.e. not noticeable in the living room during the day).
The graphics card and the CPU cooler are the largest uncertainties, I consider them experimental.
Thermaltake Level 10 GT
I picked this case after reading the reviews at
benchmarkreviews
and
techreport
.
I fell primarily for the design, and the stock fan specifications seemed good for a reasonably quiet system.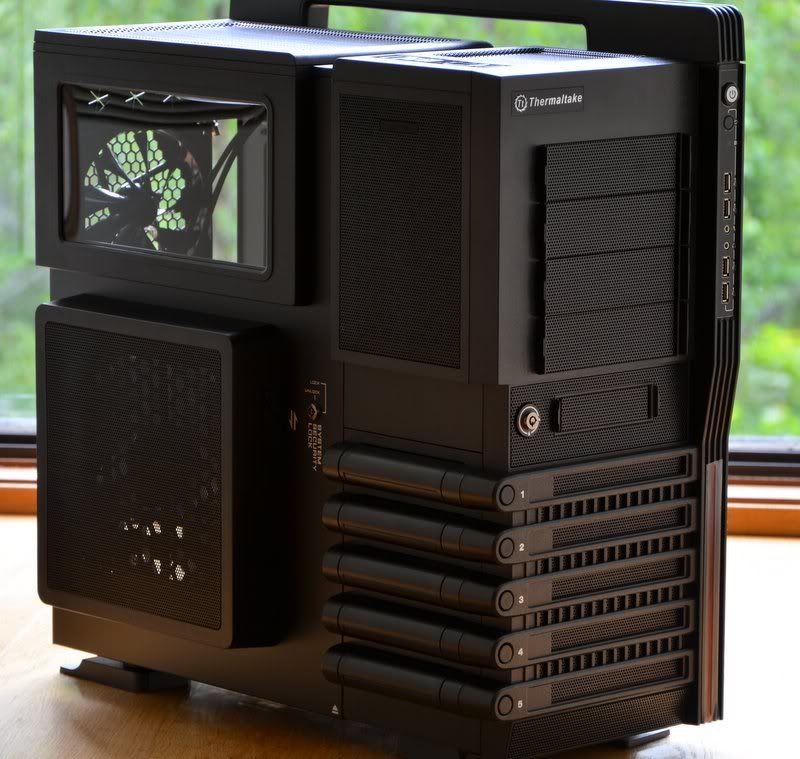 It's a sizable case, but not as giant as I expected. It's roughly the size of the Antec P193: A bit higher (due to the handle) and a bit wider, but less deep, so it gives the impression of being more compact. It is also better proportioned and generally far better looking, at least to my eyes.
The stock fans - 3x200mm (front + top + side) and 1x140mm (rear) - are rated at 13-15 dBA and 16 dBA respectively. There's a two-speed switch for the 200mm fans (hence the two dB ratings), but no fan control for the rear 140mm fan.
Running just the stock case fans without any other components installed, the noise rating appears to be very optimistic.
With fans on 'high' the case is loud. I don't have a dB meter, but I'm sure it's too loud for anyone visiting SPCR.
Theoretically, I suppose four sound sources at ~16 dB each should add up to 22 dB total (+3 dB for each doubling of the number of noise sources), but it's louder than that - at a guess I'd say 30-35 dB.
With fans on 'low' the rear fan (with no fan control so it's still running at full speed) is the noisiest component by far. Disconnecting the rear fan, the noise from the three 200mm fans isn't too bad, but the side fan is clearly louder than the other two.
If I disconnect the side fan as well, the remaining two fans (front and top) are what I consider borderline inaudible (~20 dB?).
The hard drive mounts have rubber grommets. The grommets are not very thick, but there's no issue with low-vibration HDDs like WD Green. (An older 7200rpm drive on the other hand, a 250 GB Samsung, made a surprising amount of noise and ended up being the loudest component by far in the complete system, so I replaced it with the WD Green. I wouldn't recommended this case for high-vibration drives, at least not without additional dampening.)
I like the case a lot, I'd say it's the most pleasant build experience I've had so far. (My experience being four complete builds and seven cases.)
* There's actually room to work comfortably in there - the case has plenty of space on all sides of the ATX motherboard. (In this particular build the absence of a giant CPU air cooler also helps making everything more accessible.)
* The hot-swap bays with the SATA backplane are simply brilliant. Connect a couple of cables, slide in the drives and you're done. Very nice
* There are niceties like a hook for headphones; a top tray; a carrying handle; a self-closing connector for the side fan (so there's no need for the three-armed juggle of holding the side panel while trying to reach into the case and disconnect the power cable for the side fan); a hinged door for the left side panel. Somebody actually put some thought into making this case practical to use.
(You can also choose between five different kinds of LED lighting - static red/green/blue or two patterns of color cycling if you feel for a light show - for those who like that kind of thing. Or turn it off, for those who don't.)
* Mechanical rigidity is no more than "fair", so you need low-vibration hard drives or additional HDD damping.
TL;DR
: The case is reasonably quiet with the fans on 'low' if you add a fan controller for the rear 140mm fan and use low-vibration HDDs. Not bedroom-quiet (meaning < 20dB, I believe), but at least living-room-quiet.
Disabling or further undervolting the side fan makes the case bedroom-quiet to my ears.
I'll update with impressions of the remaining components when I have experimented a little more.