This is my silent rig project, the NgTechnik Design Sigma One. Where I sit, my head is approximately four feet away from the closest part of the system, and there is a heavy tabletop between my ears and the system as well. When no music is playing from the system (quite seldom), and it's late at night with no traffic out on the street, my 15" LCD display is audible over the system itself. This is probably because of two reasons: firstly, the system is
that quiet
, and secondly, the LCD is only about two to three feet away from my ears, and directly in front me, a prime position to be at if you want to make sure I hear you. If I turn off my system (basically never except to perform mods on it), I'll tell it to perform shut down, then reach forward and turn off the LCD, I'll hear it go off, and then believe it or not, I'll go to turn off my surround receiver, and
I then notice it get even quieter!!!
This is even before Sigma One itself has completed soft shutdown, so in other words, the computer is already so quiet that I can even hear both my LCD display and my surround receiver's normal running sounds (a very faint buzz and a very faint hum, respectively) in the room along with the computer itself. The system, however, is still just barely audible from where I sit, so there is still a tiny bit of room to grow in terms of silence, but I'm posting here anyway to show how it looks so far, since I might just leave it like it is, and also to perhaps get some suggestions or advice on where to go from here.
I had posted for a while before, during and after the completion of this project.. By the suggestions of several readers that replied to my thread posts on the Anand, Sharky, Sudhian and Sysopt forums, I am posting the pics here at SilentPCReview.Com. The images are hosted by Earthlink, off the server I have with them to host my web site,
NgTechnik.Com
. Here are the system specifications:
InWin IW-V523G black steel microATX minitower enclosure with cold air side intake duct,
Fortron FSP300-60PN steel ATX PSU with 120mm super quiet fan remounted using Antec Noise Killer 120 kit,
ASUStek P4B533-VM microATX i845G-based socket-478 mainboard with factory stock passively cooled northbridge,
Intel Pentium 4 2.0A, running at 2220MHz (444MHz quad-pumped FSB), at stock voltage of 1.525V,
passively cooled
1 512MB piece of Crucial PC2100 DDR SDRAM at 148MHz (3:4 ratio, DDR296) at stock voltage with timings of 5-2-2 CAS 2.0,
Thermalright SP-94 HS, mounted through mainboard,
with a perfectly applied layer of Arctic Silver V;
I spent something around an hour putting on that thermal conductivity material, and will be putting up an editorial at my web site,
NgTechnik.Com
, about my method to perfect application of thermal conductive material, when I get around to writing it;
the CPU is passively cooled by this HS thanks to my efforts
, idling around 35C and peaking around 65C under load (at 2220MHz),
Seagate ST340014A parallel-ATA HDD mounted within Zalman ZM-2HC1 passively heatpipe cooled HDD mount with thick rubber mounts; this silent cooling system not only keeps my drive running quite comfortablly (MBM 5 is reporting the drive's S.M.A.R.T. sensor as detecting an average daily temp. of 35C), but completely eliminates translation of drive resonance into the system enclosure,
Visiontek Xtasy brand ATi Radeon 9600-based 128MB graphics adapter with factory stock passive cooling,
Creative Labs Sound Blaster Audigy 2 ZS Platinum Pro sound board,
Netgear GA302T gigabit ethernet adapter
and the already very quiet 80mm exhaust fan that came with this case, mounted using an Antec Noise Killer 80 kit, and slowed down using a Zalman Fanmate.
The rest of the system (outside the box) is detailed at my web site, again:
NgTechnik.Com
. If you want the entire story behind the NgTechnik Design Sigma One, please go there to check it out. Please keep in mind that these images were shot before I received the a new, quieter optical drive and the Antec Noise Killer kits, and before I went out and bought the gigabit ethernet adapter to hook up to Alpha Two (my power rig), so they won't show up. Now, I'll post up just the most important images, with (very) brief captions:
This is the front view; that off-black optical drive is a Lite-On 24X burner that has already been replaced with a blacker (is that a word?) Samsung SD-816 DVD-ROM drive.
Here's the side view, showing the truly critical cold air duct that allows me to passively cool that overclocked P4.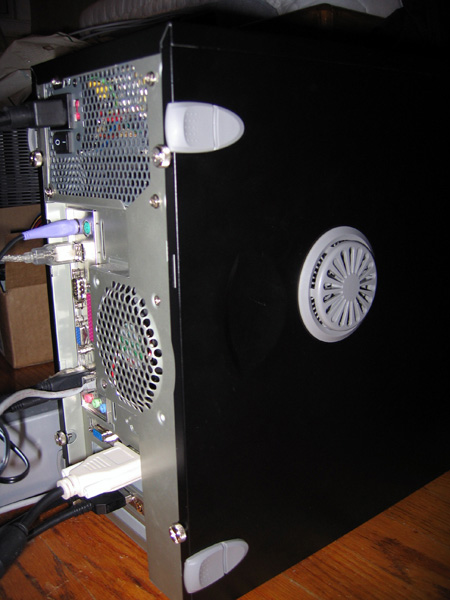 This is a shot of the rear, to see how that PSU looks. The Antec Noise Killer mounting for the exhaust fan is not visible due to the shot being taken when it was.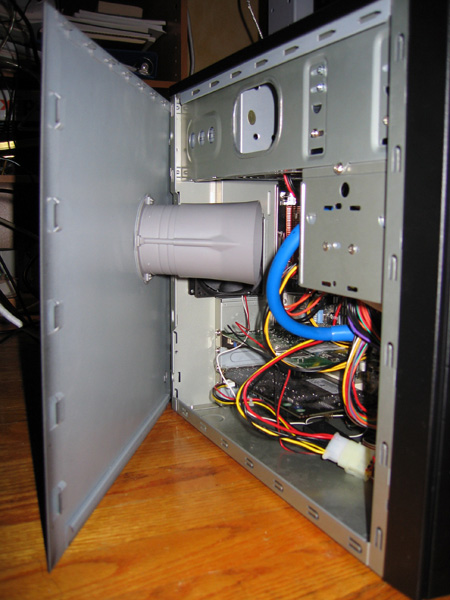 This is a shot showing how the factory stock InWin cold air intake duct looks, from the inside of the side panel.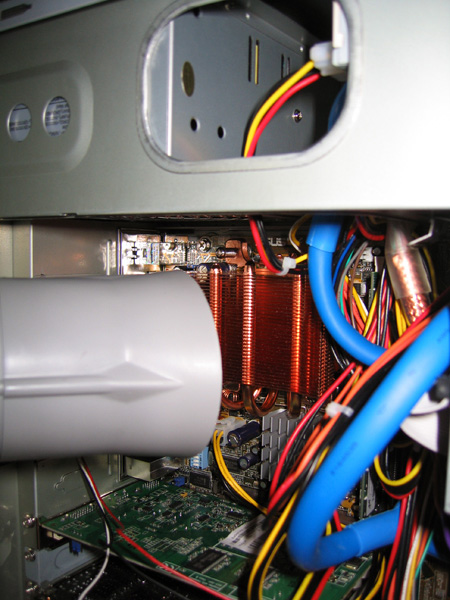 Here's a closer shot, showing how the duct lines up to the CPU & HS, which clearly, have no fan mounted directly to them.
Another, bigger shot of the side panel assembly, and a shot of the 80mm exhaust fan that's rheobussed (another word I made up) by a Zalman Fanmate (barely visible). Again, the Antec Noise Killer 80 kit wasn't installed yet when this image was shot.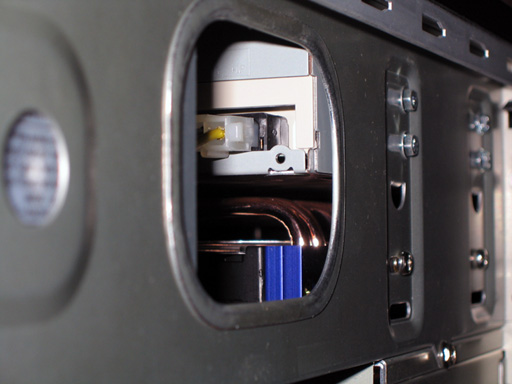 My attempt at shooting a pic of the hard drive and its passive heatpipe cooling system. See anything?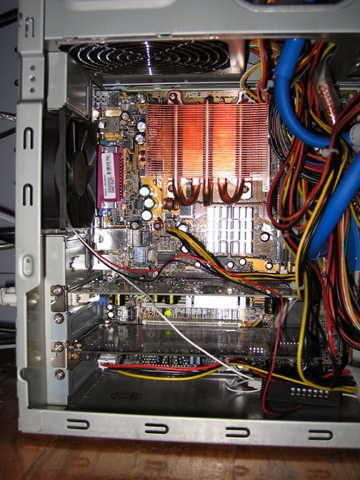 An overall shot of the system hardware; visible here are the passively cooled CPU, northbridge and VPU, and the massive 120mm underside intake of Fortron's truly wonderful (particularly for its $
27@NewEgg.Com
pricetag!!!) super quiet PSU.
A much closer look at the central hardware core. Once more I'll state that the Antec Noise Killer 120 kit wasn't installed yet when I took this shot, so that PSU was still unmodded in this pic.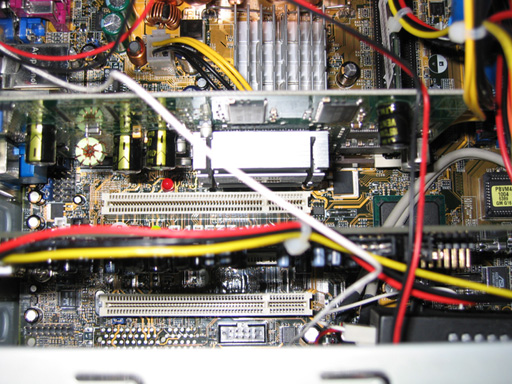 Here's the lower end of the core. Missing here is the as-yet-to-be-installed at-the-time gigabit NIC, which has a neat little passively cooled heatsink on it.
And that's about it for the system itself. Please check out my homepage, which is, once more for the sake of it, at
HTTP://WWW.NgTechnik.Com/
. And please let me know what you think! I am taking suggestions, so please voice your opinion. I am currently considering switching to a the 40GB Samsung Spinpoint drive that's available from NewEgg.Com for $60, and mounting it in a SilentDrive enclosure from QuietPCUSA.Com. If I do that I'll also order 120mm, 92mm and 80mm Acoustifans from them, one of each. The 120mm one will replace the fan that's inside the PSU, the 80mm one will replace the current exhaust fan (also through that Fanmate) and the 92mm I will install onto the SP-94 through another Fanmate I have laying around, so that I can take the CPU higher; it works fine now and I can even go to 2340MHz with an FSB of 117Mz, but the problem is that in its current, passively cooled state it overheats after a duration of heavy load; it does 2340MHz just fine if just mildly cooled actively, but I don't want to do that unless it's at least as quiet as the setup is now, if not even quieter. Finally, I'm also considering some sort of full-system foam noise isolation, but I have a feeling that in such an already quiet system, that won't help much; would it?
-Ed
EDIT: Images cropped and/or resized.