After many years of forum absence greetings to the community. I have been away for some time and I believe some departure/distance from the previously highly discussed issues has been common as technologies and markets have changed the past years.
First of all a synopsis of my journey away from silentpcreview
1) Switch to External, High Capacity HDDs
The source of most of my frustration with computer noise were due to having many HDDs in my system (6-8)...due to pricing/offers, I happened to move to External - USB 3.0 HDDs...
...this was made possible by the new, high transmission speeds, which made ext.drives a viable option
...high capacity HDDs became quite accessible financially, so the number of HDDs was reduced
...it also did away with my frustration in seeking niche Case solutions
...keeping hdd in a well designed case also reduced noise/vibrations
2) Switch to Laptop
I landed a great deal on a Thinkpad T520 laptop, which is the quietest and most customizable computer I have ever used (effectively 3 drive ports: msata, sata1, sata2-opticaldrive-bay)
...I effectively stopped using my tower pc, and since I had already moved to Ext.HDDs, I had no issue using a laptop
3) Further Switch to a Fanless NUC from China
In 2016 I bought a (crappy, quality-wise) Hystou i5 5250U passively cooled NUC/mini-pc from China...Finally completely noiseless, high (adequate) performance computing, with many ports (4 X USB3.0, 2 X USB 2.0 + 2 x msata + 1 x SATA 2.5")..
...as long as it lasted it "changed my life" with regards to my continuous involvement with PC/hardware and search for silence...all of my previous concerns (PSU/CPu cooler/case fan noise) were cast away and I was finally focused on USING my PC to do what interested me the most, instead of having to deal constantly with PC frustrations.
...unfortunately, the journey did not last long, since the 2nd hand CPU that they had used and the poor soldering lead to the mini-pc's untimely death just after 6 months...I had it reballed and this breathed another 6 months life into-it (thus far), but signs of a count-down have begun and I am not willing to pay more to sustain this crappy implementation.
Where I am now / Options and thoughts for next computer:
1) I love the idea of a fanless or very low-noise NUC
...my best option would be the new Bean Canyon i5 8259U NUC, BOXNUC8I5BEH2, whose price ranges between 330-380 + shipping
However
- Not clear yet how the higher TDP (28W) will be handled by the new system fan...Intel i5 NUCs were already not the quietest solutions around, and many people have complained about fan-noise...but in this case there isn't much you can do about it...
- it is very expensive, considering I would have to pay for 16GB DDR4-2400 (around 160euros) + M.2 NVme drive (around 85euros), with the total cost rising above 600 Euros
- It is not customizable / upgradeable which means that after its prime "life-span" its value will drop and I will have to get rid of it as is
- I have read about non-consumer friendly support policies of those NUCs (in Greece at least), plus I have the bad experience from the previous NUC
2) I am back at considering building a new PC-tower based on Ryzen CPU, 2200g most likely:
it is upgradeable, it is less power-hungry than previous processors and offers great overall value...
However:
- I am back at researching CPU heatsinks, fans, PSUs; it's been a while and whereas I previously found it informative and educating about technology, now I am more frustrated by it and even if I do my best, the result is not really guaranteed, although objective concerns are now better (no hdds to worry about)
Concerning this latest Option, here is the build I am considering
- CPU: AMD Ryzen 3 2200G = 102.9 Euros
- Motherboard: Asrock B450-Pro 4 = 95 euros
- RAM: 2 X 8 DDR4 3200Mhz = 160-170 Euros
- PSU : Corsair RM550x = 90-100 Euros
(already have SSD, will use integrated Graphics, my CAse is an old trusted Chieftec Full tower)
-

HEatsink-Fan: I NEED your help here

....
I want to
keep the fan noise not above 15-16db even if I have to put up with slightly higher temps
..
...not sure whether I should invest in a 70euros + HT/Fan or use a lower spec 30 Euros solution and maybe swap their fan with a ultra-low-rpm Papst 120mm fan I have...of course this would mean higher temps, which would affect system temps,
BUT perhaps because the setup is not really demanding, an ultra-high performance HEatsink may not be needed.
I have got a headache navigating the various reviews and I would like your help and input on this...here is a list (screenshot) of available CPU coolers in Greece...which one would you recommend for my purposes?
https://postimg.cc/image/3xiro27g1/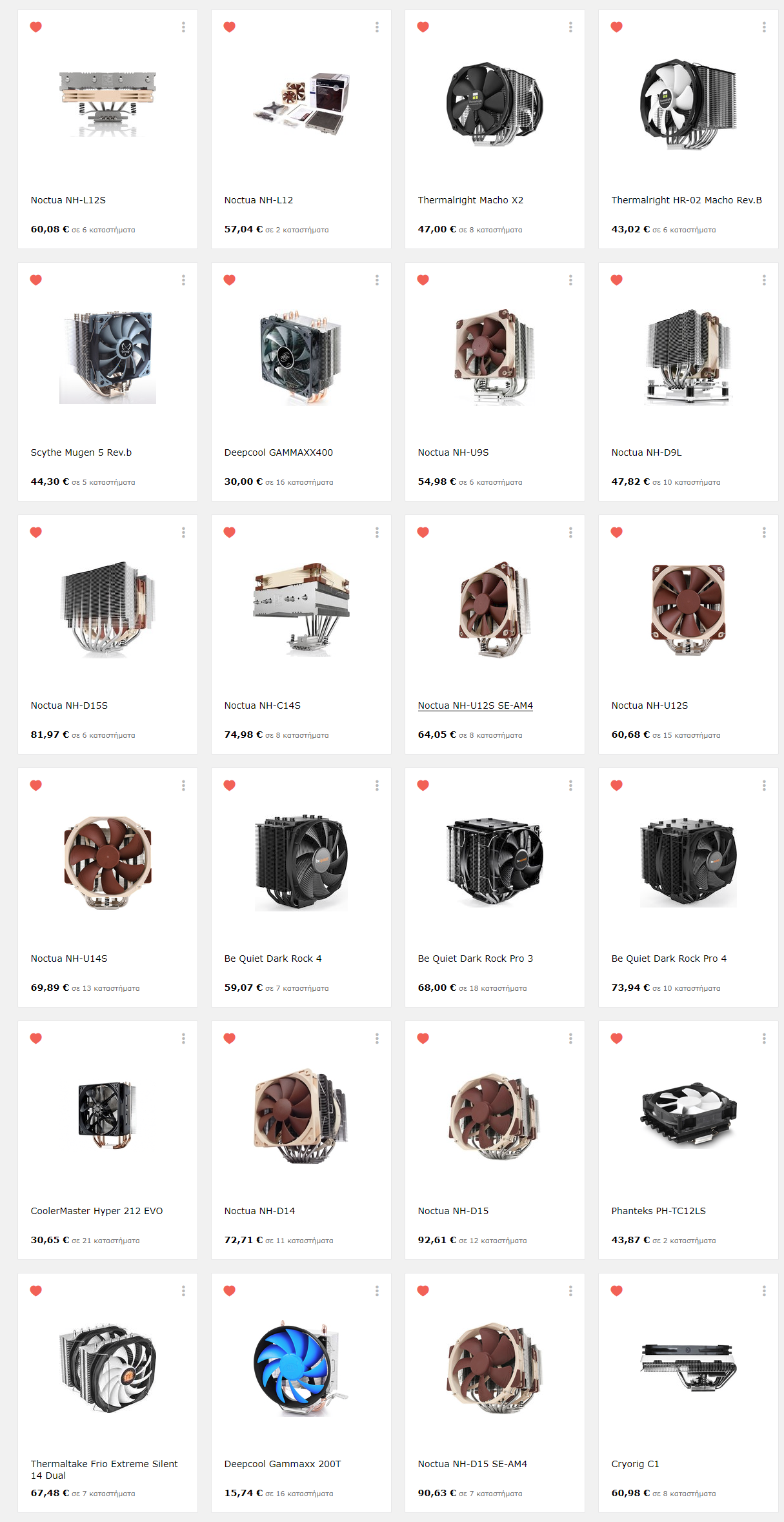 Your recommendations, comments etc is highly appreciated. Long live silentpcreview!