Everyone has a dust problem where his computer is concerned. If your own dust problem is small, or if you have a system that runs without any airflow, you can just wipe the dust off every so often.....maybe just open the side and give the inside a blast of air. But for many of us, the dust situation is so severe, we need to construct our own dust control system. You can start by cleaning the computer room, and installing a better filter in your central HVAC system (furnace). Finish that off with a stand-alone air purifier/HEPA air cleaner in the computer room. Maybe try to keep pets out of the computer room.....not usually possible if you like animals. Finally....if you still have a dust buildup in your computer, you will need to construct a filter setup on/in the computer itself. The idea here for me, is to blow filtered/clean air into the computer to keep it clean, and at the same time do it as quietly as possible. The other way to do this, is to blow air out of the computer, and to place filters over all the intakes (I have tried this negative pressure method, and it works, but not as well). In this thread I'll try to explain how I deal with dust, and how I do it as quietly as possible.
For me this means closing off the front bezel completely.....no airflow inward, or outward. Basically you now have three places for an intake fan/filter....the bottom of the case, the back of the case, or the side cover opposite the CPU heatsink. The reason for this.....you just cannot get a good/big filter behind the front bezel, and have a good/big intake channel. And intakes up front are always audible.....no matter what you do.
You need a big filter with the largest possible surface area. This usually means a pleated paper type, like a furnace filter. If your flat filter is big enough, that's also a possibility. I hardly ever use a HEPA filter. They are too restrictive.
Here's a filter at the rear....
Here's a bottom filter setup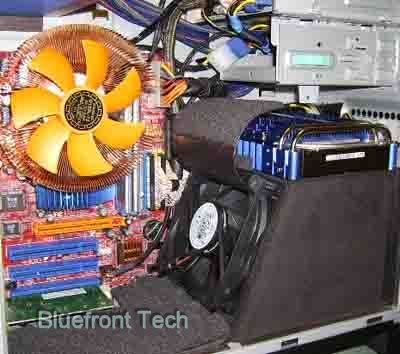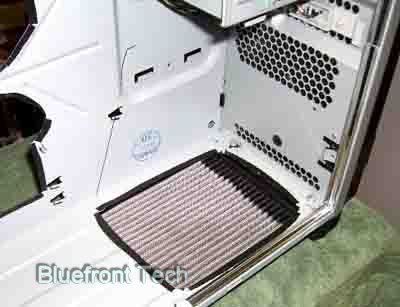 And here's a flat filter on the side, a 220mm fan sucking through it.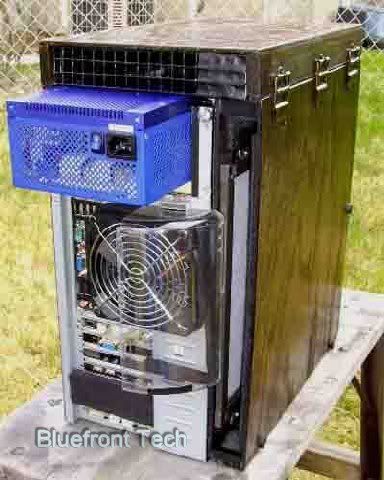 They all run clean and quiet, on positive pressure, using fanless PSUs. There are countless ways to add good filtration. But it's a DIY project. You cannot at this time, buy a case with a good filter setup. The little flat filters you slap over a fan.....work, barely. You want a clean case....you have some work to do. As time permits, I'll add links to various projects/related threads. Feel free to add your own dust control solutions.....but keep in mind, what works for you, might not work in a really dusty situation.
More to come.....
More photos of the rear filter setup
More photos of the bottom filter setup
Link to side filter thread/photos
The big rear filter thread
The Cookie Jar PC......My first serious filtering project
Clean that filter...Ralf Hutter's dirty computer photo
Another DIY rear filter setup
A filtered lower intake/HD cooler combo
Filter effects on fan speed
Dust kills computers
A filtered front intake setup (these photos are being moved shortly)
Another rear filter housing for a standard filter you don't have to cut
Newest high performance filter
An easily removable bottom filter housing
My latest/greatest filtered setup